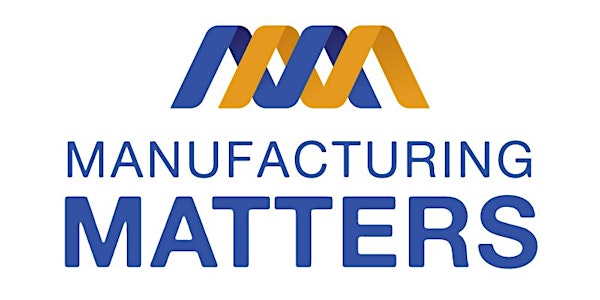 Manufacturing Matters 2019
When and where
Location
RBC London Place 300 York Street London, ON N6B 1P8 Canada
Description

The London Economic Development Corporation in partnership with the London Region Manufacturing Council are pleased to present Manufacturing Matters.
Manufacturing Matters is a must attend, half day conference for manufacturers and service providers (sold out!). Delegates will learn valuable information from industry leaders, keynote speakers and peer-to-peer networking. The conference will deliver essential advice applicable to all manufacturers in the London region.
2019 Manufacturing Matters Conference
Thursday, October 3, 2019
RBC London Place, 300 York Street London Ontario
Agenda:
7:30 am – 8:30 am Registration and Networking Breakfast
8:30 am – 8:35 am Welcome & Introductions
Jason Bates, General Manager of the London Region Manufacturing Council, Field Service Adviser, Excellence in Manufacturing Consortium, London Region.
Greetings:
Kapil Lakhotia, President & CEO, London Economic Development Corporation
Mayor Ed Holder, City of London
8:35 am – 9:00 am Keynote Address: Our Path to London
A brief overview of Maple Leaf Food's process to design a state of the art chicken processing facility in London Ontario Canada
Presented by:
Lou Cappa, Vice President Manufacturing, Poultry
Ben Brooks, Senior Vice President and General Manager, Poultry
Location: Main Stage
7:30 am – 12:00 pm SUPPLIER FAIR - Main Room
Adescor

Attica Manufacturing

City of London – Finance and Corporate Services

DeeTag Ltd.

Edward Door Systems Limited

Innovative Quality Manufacturing Inc.

JMP Solutions

Maple Leaf Foods

Public Services and Procurement Canada – Ontario Region

/ Government of Ontario

RWP-Resistance Welding Products Ltd.

OSPE

OSME

Siemens
7:30 am – 12:30 pm EXHIBITORS - Main Room
ACT – Advanced Composites Training

Data Infusion Intelligence Inc.

Express Employment Professionals

FreePoint Technologies Inc.

GWA Business Solutions Canada Inc.

J/E Bearing & Machine Ltd.

King's University College

michael + clark construction

Western Advanced Manufacturing Consortium

Western Continuing Studies & hirewesternu

WIL Employment Connections

Workplace Safety & Prevention Services
9:00 am – 10:00 am Concurrent Breakout Sessions
Wood Industry Focus: Innovation Network & Industry 4.0 Platform for the Wood Industry

Presented by Mike Baker, Executive Director, Bluewater Wood Alliance

Location: Salon E
______
Cyber Security, Aon Risk Solutions
Presented by Ady Sharma, National Cyber Sales Operations Manager, Aon Risk Solutions
As manufacturing companies use technology to enhance efficiency and facilitate communication, manufacturers' risk profiles are changing, with new or increased cyber risk exposures coming to the forefront. This informative session will discuss common organizational cyber exposures, the cost of loss, and cyber risk management options, including cyber and privacy liability insurance.
Location: Salon F
______
Leading from the Front: Ivey Academy and Fanshawe Corporate Training Solutions

Presented by John Makaran, Faculty Fanshawe College
Frontline supervisors lead from the "front" with responsibilities for an organization's relationship with both its customers and employees. These leaders face new challenges of leading themselves and others.Explore opportunities from the perspective of a frontline supervisor through a problem-solving session of this unique co-branded, co-created Frontline Supervisor Program.


Location: Salon G
______
The Ultimate Employment Contract

Presented by Jennifer Costin & Liam Ledgerwood, Siskinds the Law Firm


This session will provide an overview of frequently neglected terms and conditions your organization should consider including in your contracts.

Location: Salon H
______
Funding Opportunities for SWO Manufacturers
Presented by Bernadeen McLeod, President and Founder, Mentor Works Ltd.

Location: Salon J
10:00 am – 10:30 am Networking Break & Display booths
10:30 am – 11:30 am
Concurrent Breakout Sessions
Focusing on Total Rewards to Attract Your Workforce of the Future
Presented by Eva Kwok, Principal Mercer Toronto
Successful companies are taking a holistic approach to the employee experience. Starting with the recruiting and on-boarding process, these companies are focused on the total employee value proposition and realizing it is not just about pay – employees are looking for more: career development, wellbeing and purpose.
Location: Salon E
_______
Empowering Women in Manufacturing
Presented by:
Alison Mcintosh, General Motors CAMI, Stamping Manager
Nicole Haney, Boho Bake Shop, Founder & CEO
Sherry Parker, 3M Canada Company, Lean Six Sigma Black Belt
Moderator: Candace Campbell, LEDC, Business Development Specialist
Join an interactive discussion featuring female leaders sharing key learnings and advice for developing the skills needed to succeed in a career in manufacturing.
Location: Salon F
______
Employer Duties on Impairment in the Workplace
Presented by David Whitney, Regional Program Coordinator, Industrial Health and Safety, Ministry of Labourand Kristin Onorato, Workplace Health & Safety Prevention Services
Take Every Precaution Reasonable – as an employer, what does this statement really mean? It's no surprise that impairment is a very hot topic given Canada's recent decriminalization of cannabis. This session will look at all types of impairment in the workplace. Additional topics include: workplace impairment and the impact it has on health and safety in the workplace; the role of employers/supervisors in responding to impairment in the workplace; and, the creation of an action plan for managing impairment in the workplace.

Location: Salon G
_______
Effective Management Techniques in a Unionized Environment
Presented by: Elizabeth Traynor & Chris Sinal, Siskinds the Law Firm
Do you feel like dealing with your Union is like trying to swim through Jello? Like any relationship, good communication and firm boundaries are critical. Join us to discuss our Top 10 Tips to help you break down barriers and improve efficiency in your unionized workplace.
Location: Salon H
_______
Manufacturing During an Impending Economic Disruption: How to Profit Proof Your Manufacturing Business
Presented by Yohaan Thommy, Consulting Partner, MNP LLP
Ontario manufacturers have experienced a few competitive forces that impact their operational costs, (Bill 148, tariffs, business slowdown).

With an impending economic slowdown, how are you planning on profit proofing your manufacturing business? We'll be covering how to help improve your margins, grow your top line, and help reduce the complexity in your business to maximize labour productivity.

Location: Salon J
________
This is a FREE event for manufacturers, but registration is required!
Non-manufacturers are invited to attend for a nominal fee of only $50
Booth and Partner Opportunities are now available. Please contact:
Holly Doty, Event Manager
Connect Dot Management Inc.
1.519.204.2499 or holly@connectdot.ca
Please be advised that photographs and video may be taken at LEDC events for use on LEDC web, print and social properties. We won't sell your photo, but we may share it with media and/or partner organizations. By attending this and any LEDC event, you consent to being photographed and/or filmed, and to your image or likeness being used at LEDC's discretion.
Learn about all of the upcoming events. Sign up for the LEDC Newsletter by clicking here
---

Sponsors:
Presenting:
---


Gold
---

Silver
---

Supplier Fair Participants
---