Description
ASM BC CHAPTER NOVEMBER TECHNICAL MEETING
Join us on Thurdsay, November 23rd for this year's Brian Ives Lecture by Dr. Lukas Bichler, P. Eng.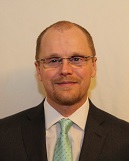 Dr. Lukas Bichler received his Ph.D. degree in Mechanical Engineering (specializing in Manufacturing, Materials and Solid Mechanics) from Ryerson University, Toronto. Upon graduation, he received NSERC-Postdoctoral fellowship, tenured at the Department of Materials Science and Engineering at the University of Toronto.
Dr. Bichler established two laboratories at UBC focusing on multi-process approach to materials development:
1) Metalcasting laboratory for advancement of magnesium and aluminum alloys
2) Spark plasma sintering laboratory for advanced ceramic, metallic, nano and functionally graded materials and composites
TOPIC: "A multi-process approach towards manufacturing of high-performance magnesium alloy parts"
Material designers and engineers in the transportation industries often seek to increase the utilization of magnesium alloys in their products and applications. However, mass production of complex parts is often challenging, leading to significant compromises in material performance or part geometry.
In this presentation, the recent progress on the methods to overcome technological challenges related to the manufacturing process are discussed. Also, the refinement of microstructure of automotive magnesium alloys with ceramic additives prepared by Spark Plasma Sintering (SPS) process will be discussed and related to hot tearing.
Event Schedule:
Registration/Mingle: 6:00 pm to 6:30 pm
Dinner: 6:30 pm to 7:30 pm
Presentation and Discussion: 7:30 pm to 9:00 pm
ASM Members may be asked to show their ASM Membership number and Students may be asked to show their Student Card. Online registration will be open until Tuesday, November 21th. Tickets will be an additional $5 if purchased at the door.
If you have any dietary considerations (ex. Vegetarian), please send your request to asmbcchapter@gmail.com with subject line "November Dinner- Dietary Consideration"
Thank you to our generous Chapter Sponsors:
MATEC, POWERTECH LABS, BUEHLER, ACUREN GROUP, ALLIED HIGH TECH PRODUCTS INC., SKC ENGINEERING, METLAB.
Useful Links: BCIT Burnaby Campus, SE2 Building
http://www.bcit.ca/map/
http://www.bcit.ca/parking/
http://www.translink.ca/