Description
Reserve our Party Shed! (Special Rate for Weekday Rentals!)
Perfect for Mom & Baby groups.

Guests enjoy free access to the Main Barn and Demonstration Barn.

The Party Shed is located in front of the Farm Store.

Passes for the Cedar Maze & Adventure Area can be purchased that day in the store for $5 per person + tax (children under age 2 free)
Party Shed Features
Seating for 12-15

2 tables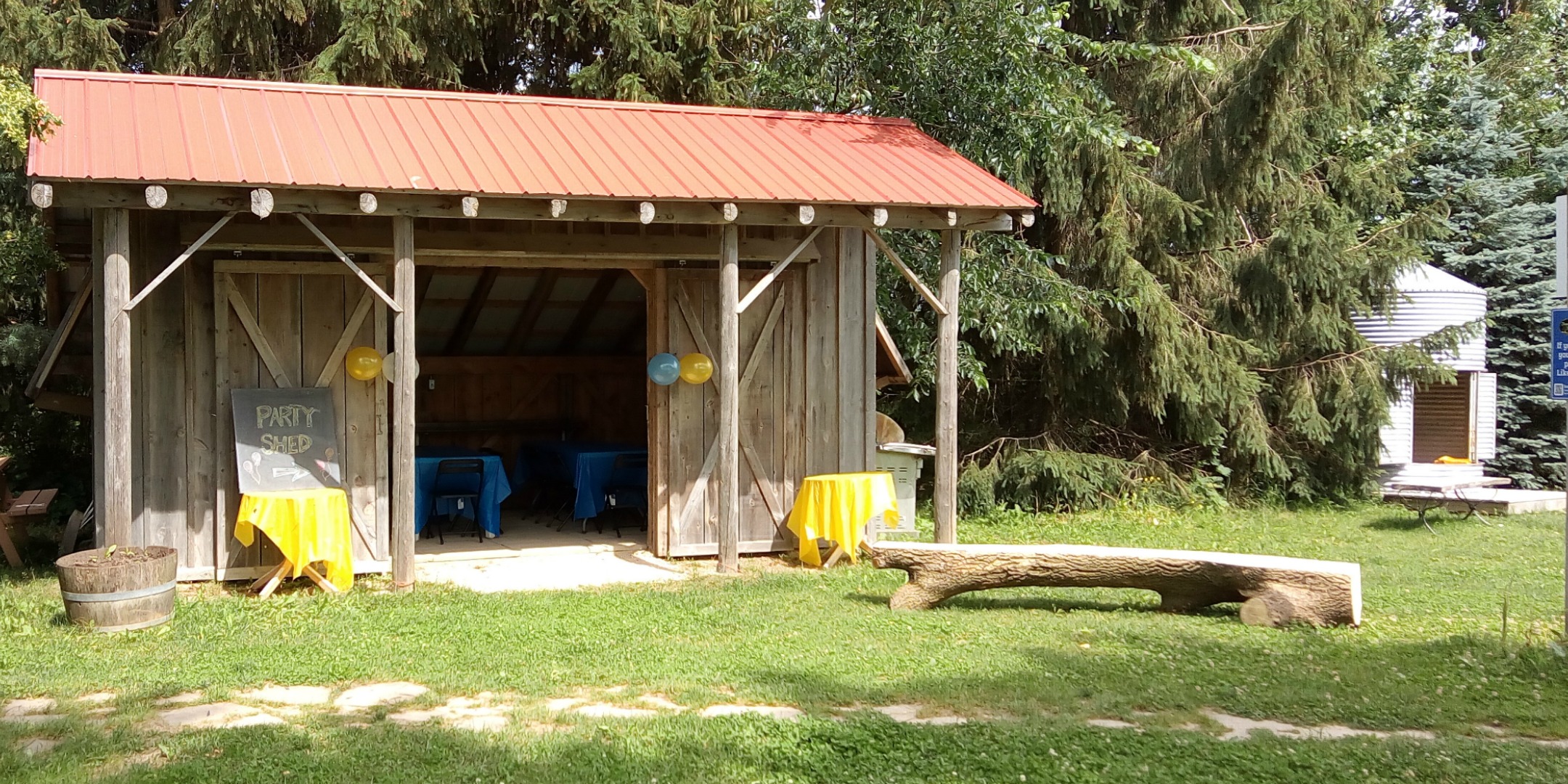 Pricing / Times
Special Weekday Rate - $25 per 2 hour period (+ tax)

Available 11am to 1pm or 2pm to 4pm

Reserve both morning and afternoon time slots on the same day and you can use the Party Shed from 11am to 4pm. Five hours for the price of four!
Rules for use:
Recommended supervision ratio for children - 1 adult to 3-4 children.

No smoking. No barbeques. No alcohol.

Outside food allowed. You are responsible for providing all utensils, plates, cups, serving spoons etc. and we encourage you to bring re-useable versus disposable items. Load them in a tupperware bin for easy transportation back and forth.

If you bring decorations, please keep them simple as you are responsible for putting them in place, as well as cleaning them up.

You are welcome to bring a craft, board games or other activity.

Please note that fees cover use of the party shed only. Fees do not include staff support in operating your get together.

You are expected to leave the Party Shed clean and tidy.
Other Info
There is no air conditioning or heat in the shed. The front doors open wide and there are 2 windows - one on each end.
Weekday Party Shed Cancellation Policy
To cancel please use Eventbrite cancellation feature.
*Any problems with your booking, please contact us at info@mapletonsorganic.ca or call 519-638-1115.