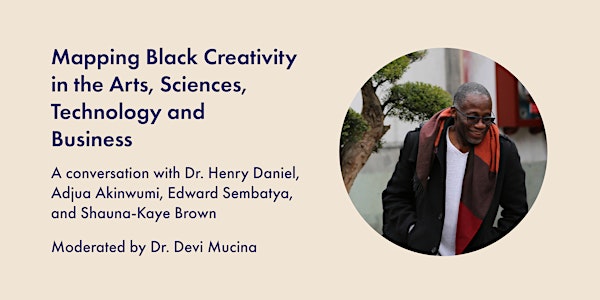 Mapping Black Creativity in the Arts, Sciences, Technology and Business
Artist Talk and Performance
By University of Victoria Legacy Art Galleries
When and where
Date and time
Starts on Sat, Mar 11, 2023 5:00 PM PST
Location
Legacy Art Gallery 630 Yates Street Victoria, BC V8W 1K9 Canada
About this event
Join us for an evening with Black scholars working at the crossroad of the arts, sciences, technology, and business. Panelists include Distinguished Professor and choreographer Dr. Henry Daniel with international guest researchers Adjua Akinwumi, Edward Sembatya, and Shauna-Kaye Brown.
Devi Mucina, curator of Gule Wamkulu: Dancing Indigenous Governance will lead the panel in a discussion of the journey that led each of them to their current area of research and how approaching research through the lens of Blackness generates new knowledge and futurities.
Dr. Henry Daniel
Distinguished SFU Professor, Professor of Dance, Performance Studies and New Media Technologies, scholar, performer, choreographer, and Artistic Director of Full Performing Bodies, Daniel's research concentrates on strengthening notions of Practice-as-Research (PaR) and Research/Creation in Canada. He leads a group of artists and scholars who help define new parameters for excellence in these areas. He has a professional background in dance, theatre, and new media with a career that started in his native Trinidad & Tobago and continued in the USA, Germany, the UK, and Canada. His current research project, Black Creativity In The Arts, Sciences, Technology And Business, explores various notions of performance as actions that range from human traditional cultural expressive behaviour to computation, efficiency and optimization in institutional, social and digital systems.
Dr. Devi Mucina
Devi Dee Mucina is an Indigenous Ubuntu from the Ngoni and Shona people of southern Africa. He received his PhD from the Ontario Institute for Studies in Education, department of Sociology and Equity Studies, University of Toronto. His academic interests are Indigenous African philosophies, decolonizing Indigenous masculinities, Indigenous fathering and other-fathering, and using Ubuntu oralities and disability studies to understand the social memory of Indigenous children.
Adjua Akinwumi
Adjua Akinwumi is a PhD Candidate in the School of Communication at Simon Fraser University. Her research focuses on the transposition of AI technologies into cultural contexts outside of their origin. Her work explores the relationship between notions of risk, race, and AI mobilization. Adjua holds an MA in Communication from SFU and an MSC in Conflict and Development studies from SOAS, University of London.
Edward Sembatya
Edward Sembatya, he/his/him, is a versatile Ugandan dance practitioner, choreographer, teacher, and drummer (Ugandan drums). He is currently pursuing his PhD. at Simon Fraser University, School for Contemporary Arts (dance). His artistic works and research draw inspiration from contemporary everyday life, and the rich knowledge and skills embedded in indigenous East African dances, (Ugandan in particular), music and narratives. His areas of interest: Dance and activism, Dance as Intangible Cultural Heritage (ICH), dance decolonization and diversification, interculturalism, dance identity, and Ownership.
Shauna-Kaye Brown
Shauna-Kaye is a third-generation Jamaican arts practitioner. Her over 10 years of professional practice has afforded her opportunities to gain experience in both the public and private arts sectors in Europe, North America, and Latin America. As an employee, subcontractor, or freelancer, she has been an Entertainment Administrator, Director of Entertainment, Music Business Executive, Producer and Project Manager. She has also planned and produced micro, medium, and large-scale music events including music festivals. Shauna-Kaye's current research is a materialization of her accumulated vocational experiences. This research seeks to situate artist management as a process driven creative practice. Her forthcoming doctoral studies hopes to "Plan the Non-Planned" by reimagining Cultural Administration. This prospective interdisciplinary research incorporates arts policy, community engagement, labour studies, critical theory, and critical data studies. This forthcoming work has two primary objectives: the first is to propose a contemporary lens through which arts policy development and monitoring can be reimagined as a community engaged performance in a neoliberal framework. The second objective is to evaluate the transformative capacity of that performance using critical modes of inquiry.