A hands-on workshop presented in partnership with SFU Library
About this event
Maps are great tools to bring together a massive amount of data and share it in a format everyone is familiar with. They are also a unique tool to bring unnoticeable realities—including realities of inequality—to visible patterns. This 90-minute workshop will introduce you to how to make a thematic map that highlights an equity indicator. No experience in geographic information systems (GIS) or cartography is required.
If you wish to participate in the hands-on part of the workshop, please sign up for a free public account with ArcGIS Online before the workshop. Please be advised that the personal information you disclose to Esri (the developer of ArcGIS) is stored on servers located in the U.S.A. You may wish to review the Esri privacy policy before using ArcGIS Online.
See below for an example of a map made with GIS to highlight an equity indicator—in this case, median income by region, using Canada Census 2016 data. Click here to explore the full interactive map.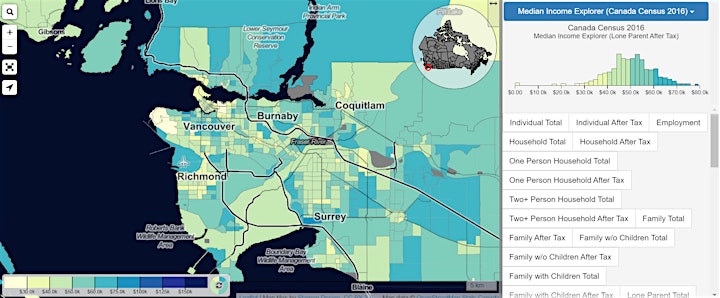 Instructor
Sarah Zhang is the GIS/Map Librarian at Simon Fraser University. Sarah holds a Master of Library and Information Studies and a Master of Science in Ecology. As an immigrant and mother, she is constantly inspired by the cultures around her, whether as an insider or outsider. Passionate about lowering the bar to entering GIS/mapping for students, researchers and the public, she enjoys providing learning opportunities for them to become not only consumers of geospatial data, which has become pervasive in today's world, but also producers and communicators of geospatial information and knowledge.
If you'd like to be kept in the know about more events from SFU Public Square, sign up for our newsletter!
Accessibility, technology and privacy
Accessibility
If you have any questions about accessibility for this event, please contact psqevent@sfu.ca.
Registration and password
A link and password to access this online event will be emailed to all registrants via Eventbrite shortly before the event.
After the workshop, participants will receive a copy of the slides as well as detailed documentation (including step-by-step instructions) so they can review the topics covered.
Technology requirements
To engage in this online event, you will need a computer (laptop or desktop), tablet or smartphone, with speakers or headphones. A microphone and/or a webcam are recommended if you would like to fully participate in the interactive portions of this event.
We recommend that you use a computer for the best experience of this event. Some interactivity and accessibility features are not available when using a smartphone or tablet.
If you wish to participate in the hands-on part of the workshop, please sign up for a free public account with ArcGIS Online before the workshop. Please be advised that the personal information you disclose to Esri (the developer of ArcGIS) is stored on servers located in the U.S.A. You may wish to review the Esri privacy policy before using ArcGIS Online.
Protecting your privacy
To ensure that we are using online event technology in a privacy-conscious way, we are following best practices for this online event series:
We will only circulate the event link to those who are registered for the event
We will password-protect the event
We will enable end-to-end encryption
We will not use attention tracking
To protect your own privacy:
To protect the privacy of others:
Please do not record or photograph yourself, other participants, or the hosts during the event, unless permission is requested and given.
If you have any questions about this event's accessibility, technology requirements, or privacy, please connect with us at psqevent@sfu.ca.
Community guidelines
Our community guidelines are intended to ensure the safety of all guest speakers and event participants, and to foster honest, socially accountable dialogue at our events. Thank you for respecting these guidelines!
Above all, there will be zero tolerance for those who promote violence or discrimination against others on the basis of race, ethnicity, national origin, sexual orientation, gender identity, religious affiliation, age, or disability. Anyone who incites harm towards other participants (whether through chat, video, audio or otherwise) will be removed at the discretion of our technical team and moderator.
Don't assume pronouns/gender/knowledge based on someone's name or appearance. Please refer to people using the usernames and/or pronouns they provide.
Take space, make space: share your perspective, and make space for other voices to be heard too. Recognize that we are all here to learn.
Practice self-care in whatever way you need to. If you need to get up or take a break, please do so.
Event partner

Organizer of Mapping Equity: Using GIS and Maps to Make Invisible Realities Visible