Mapping extreme temperatures and their health risks in the Lower Mainland

Thursday, January 22, 2015 from 5:30 PM to 7:30 PM (PST)
Event Details
Mapping Extreme Temperatures and Their Health Risks in the Lower Mainland

PICS SFU UBC CLIMATE CHANGE RESEARCH LECTURE SERIES
When: January 22nd, 2015 from 5:30 pm to 7:30 pm
Where: Room 1400 – Harbour Centre, SFU Vancouver Campus, located at 515 West Hastings Street

Live Web Stream: http://www.sfu.ca/webcast/event/483/live.html
Extreme hot weather can be a serious health threat in our region. Climate change models indicate these hot weather events will become more frequent and intense over the coming decades. Join speakers Sarah Henderson (UBC) and Anders Knudby (SFU), and moderator Tim Takaro (SFU) as they chart a map of our Lower Mainland's extreme heat events and health risks. 
Sarah will take us back to the summer of 2009, when the Lower Mainland experienced a 7-day extreme hot weather event, which taxed the health of our at-risk populations. As a result of this event, Sarah has been involved in the research and development of a new local Heat Health Warning System to assist health agencies and the general public to better prepare for hot weather. 
Anders will provide insights into Greater Vancouver's unique urban heat "archipelago," and will demonstrate how health authorities and local governments can map heat-health risk hot spots—areas with high temperatures, population sensitivities to heat, and insufficient infrastructure and/or public facilities—throughout the region. This talk will be moderated by Tim Takaro, Professor in the Faculty of Health Sciences at Simon Fraser University.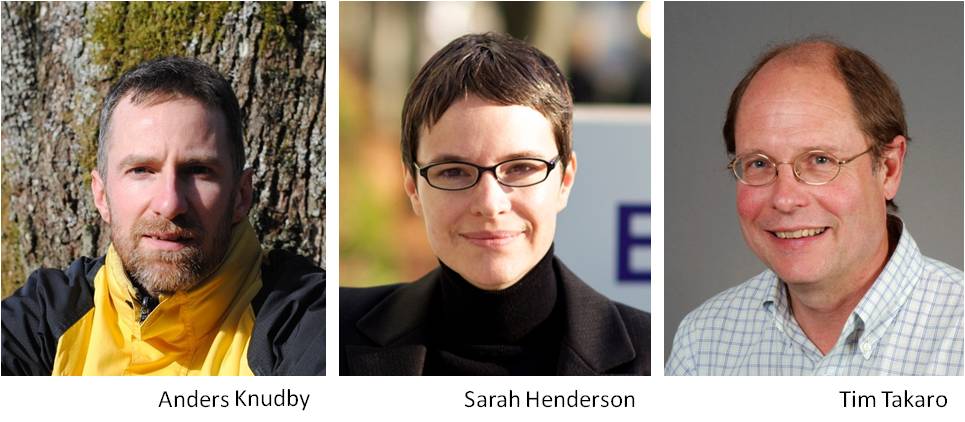 Anders Knudby is Assistant Professor in Environmental Remote Sensing at Simon Fraser University, where one of his research foci is the relationship between summer temperatures, the built environment, population structure and health outcomes. Supported by several students, recent research has included a) mapping the heat trapping effect of tall urban buildings using publicly available data, b) mapping the distribution of temperature for a typical hot summer day in the Greater Vancouver Area, and c) combining this with information on population sensitivity to heat to identify vulnerable neighbourhoods.
Sarah Henderson is the senior environmental health scientist at the BC Centre for Disease Control and Assistant Professor in the School of Population and Public Health at the University of British Columbia. Her mandate is to conduct applied environmental health research to support the development and implementation of good environmental health policy for the province. Following an extreme hot weather event in the Lower Mainland during the summer of 2009, the BCCDC conducted suite of studies to better understand the observed 40% increase in mortality during that period and to develop mechanisms for protecting the population during future events.
Tim Takaro is a physician scientist and Professor in the Faculty of Health Sciences at Simon Fraser University. He was trained in occupational and environmental medicine, public health and toxicology, at Yale, the University of North Carolina and University of Washington. Dr. Takaro's research is primarily about the links between human exposures and disease, and determining effective public health based preventive solutions to such risks. Current research on human health and climate change focuses on water quality, extreme weather events and gastro-intestinal illness in BC communities and building and mapping watershed vulnerability and resilience in rural Nicaragua. He is Canadian co-chair of the Health Professionals Advisory Board to the International Joint Commission on border waters, Program Committee member for the Pacific Institute for Climate Solutions, chair of the Climate Change Health Policy Group in BC and contributor to the PCIC Plan2Adapt health module. 

We hope that you can make it, either in person or by accessing our webcast.
Nastenka Calle
SFU Program Coordinator, PICS
n_calle@sfu.ca | www.sfu.ca/climatechange | www.PICS.uvic.ca

Sara Muir-Owen
UBC Program Coordinator, PICS
sara.muir-owen@ubc.ca | www.sustain.ubc.ca/pics |  www.PICS.uvic.ca
When & Where

Room 1400 - Harbour Centre, SFU Vancouver Campus
515 West Hastings Street
Vancouver, BC V6B
Canada

Thursday, January 22, 2015 from 5:30 PM to 7:30 PM (PST)
Add to my calendar
Organizer
PICS was established in 2008 by an endowment from the BC Ministry of Environment. Hosted and led by the University of Victoria, PICS is a unique collaboration among BC's four research intensive universities--University of British Columbia, University of Northern British Columbia, Simon Fraser University, and the University of Victoria.
Mapping extreme temperatures and their health risks in the Lower Mainland