Event Information
Location
Online Webinar Discussion
Canada
Description
You are invited to participate in this 4-part online discussion series.
The next 100 days will be focused on bringing people together for strategic conversations about the impact of the COVID-19 crisis and to generate ideas for how we can take a new approach for shaping our future. The Institute of Southern Georgian Bay and collaborative partners are launching a four-part online discussion series called Mapping Our Road to Recovery.
Mapping Our Road to Recovery - Part 1: Using Social Innovation to Inspire Regional Resilience
Using Social Innovation to Inspire Regional Resilience features ideas in the recently released Social Innovation Report, aimed at accelerating our recovery, setting a 21st century resilient and sustainable course, and embracing new economies towards 2030.
Speakers representing business, not-for-profit, government, and philanthropic sectors will talk about the state of these sectors in our region pre-crisis, the challenges being faced now, and what we need to be thinking about for our future. This crisis has underscored the reality that our major sectors are interconnected and our economy and wellbeing depend on all the sectors working together. An integrated approach to recovery will provide the most sustainable results.
Speakers include:
• Social Innovation Report Writer: Marilyn Struthers, long-time resident of Grey & Bruce who works with emerging practices in the social sector
• Business Sector: Martin Rydlo, Director, Marketing and Business Development, Collingwood
• Nonprofit/Charitable Sector: Dale Biddell, CEO, United Way Simcoe Muskoka
• Government Sector: TBC
• Philanthropic Sector: Barbara Little, Chair, Meaford Hospital Foundation
All attendees will discuss report themes and speaker highlights which resonate most, why the ideas are important, and what actions are recommended.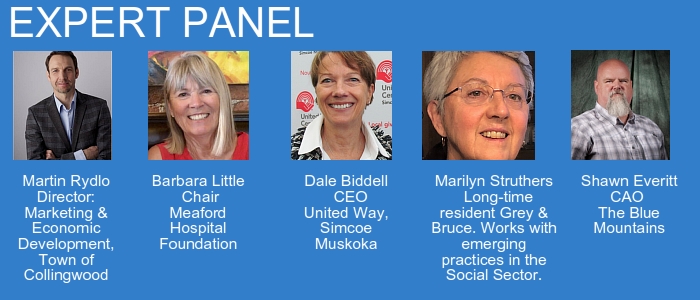 As frontline services pivot, businesses retool, new roles for philanthropy emerge, and parts of the planet seem to be healing, we need to learn, think, and recalibrate together!
Mapping Our Road to Recovery uses a multi-sector approach to harness the talent, knowledge, and care across this region to help with:

• Planning for the recovery of traditional businesses and not-for-profits/charities,
• Nurturing the collaboration of municipal governments across the region, and
• Seeding the growth of emerging economies including Social Enterprise through Social Innovation.
The target audience includes: concerned citizens, leaders from all sectors, and members of recovery task forces from across Southern Georgian Bay.
When do I get my access info to Zoom so I can join this webinar?
When you register here, your confirmation will include your Zoom info access, and we will send it out again 48 hours before the event.
SAVE THE DATES: Part 2 in the series , Facing the Future: A Collective Arts Strategy takes place Wednesday, May 27, 4:30-5:30pm with speakers from all sectors.
The Mapping Our Road to Recovery series continues June 10 and June 24. Please mark your calendars!
Date and Time
Location
Online Webinar Discussion
Canada