Description
ADVANCE TICKETS AVAILABLE FEBRUARY 22.

PLEASE NOTE:

THESE "TICKETS" ARE

ONLY

FOR THE

PLANETARIUM SHOWS

. THE REST OF THE EVENT INCLUDING THE PUBLIC TALK AND THE TELESCOPE OBSERVING

DO NOT REQUIRE ANY REGISTRATION.
---
The planetarium shows take place after the Public Talk which is between 8 - 9 pm.
The 15 minute planetarium show is presented three times:
9:10PM - tickets available in advance (drop-in seats may be available if sold out)

9:30PM -

tickets available in advance (drop-in seats may be available if sold out)




9

:50PM

- tickets available at the event after the talk
Please visit our website for more information on the Tour and Planetarium Shows!
The talk takes place in 60 St. George street, which is a different building than where the planetarium is. For this reason we would kindly ask that you have your tickets checked by one of our planetarium ambassadors at the meeting place (in the same building as the talk, see below).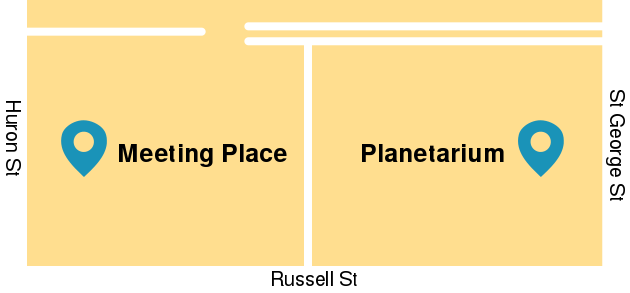 Meeting Place: The elevator lobby of the McLennan Physics Building (Burton Tower, 60 St. George St). A tours volunteer will be in the lobby with a registration list or to collect tickets and will bring the group over to the Planetarium in 50 St. George St. Please arrive 5 minutes prior to the start of your show.
If the tickets are sold out, please ask a planetarium ambassador about drop-in seats after the talk!
This is part of the Monthly Public AstroTours organized by the graduate students of the UofT Department of Astronomy and Astrophysics.
The planetarium shows are often fully reserved prior to the event. If you have reserved a ticket but can no longer attend, we kindly ask that you cancel your order on EventBrite before the day of the event. This will allow other guests to reserve tickets in advance.