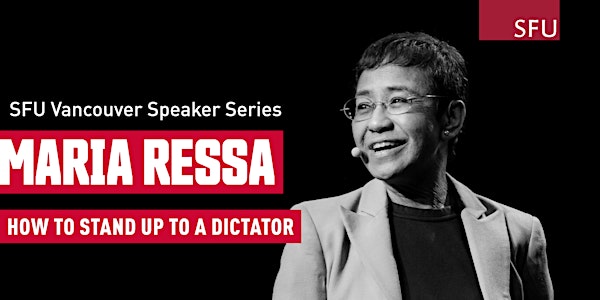 Maria Ressa | How to Stand Up to a Dictator
Nobel Peace Prize laureate, SFU Honorary Degree recipient and renowned journalist Maria Ressa on how democracy dies by a thousand cuts.
When and where
Location
Online and In-Person at the SFU Goldcorp Centre for the Arts 149 West Hastings Street Fei and Milton Wong Experimental Theatre Vancouver, BC V6B 1H4 Canada
About this event
Renowned investigative journalist Maria Ressa received the 2021 Nobel Peace Prize for her fearless defense of press freedom and democracy in the Philippines as CEO and co-founder of Rappler, an online news site. For her critical reporting of former President Rodrigo Duterte's government and policies, she faces multiple lawsuits and potentially over 100 years in prison yet remains resolved in her fight to speak truth to power.
Now, in her forthcoming book How to Stand up to a Dictator, Maria Ressa maps out a global network of disinformation from Duterte's drug wars, to America's Capitol Hill, to Britain's Brexit, to Russian cyberwarfare to Silicon Valley and beyond.
"How to Stand Up to a Dictator is the story of how democracy dies by a thousand cuts, and how an invisible atom bomb has exploded online that is killing our freedoms."
Join us online or in-person at this SFU Vancouver Speaker Series event where Maria Ressa will discuss the threat disinformation campaigns pose to our increasingly polarized democracies in a conversation with Carol Off, former host of 'As it Happens' on CBC Radio One.
SFU President Joy Johnson will also briefly take the stage to celebrate Maria Ressa as an SFU Honorary Degree recipient. Andrea Crossan, Executive Editor at the Global Reporting Centre will provide closing remarks.
--
This SFU Vancouver Speaker Series event is presented in partnership by SFU Vancouver, SFU Public Square, SFU's Vancity Office of Community Engagement, the Digital Democracies Institute, Ouano Foundation, the University of British Columbia and the Global Reporting Centre.
Maria Ressa
CEO of Rappler, Journalist, Author, Freedom Advocate and 2021 Nobel Peace Prize Laureate
Maria Ressa is the co-founder and CEO of Rappler.com, an online news organization in the Philippines. Maria's courage and work on disinformation and 'fake news' culminated in being awarded the 2021 Nobel Peace Prize in recognition of her "efforts to safeguard freedom of expression, which is a precondition for democracy and lasting peace." Her numerous awards include being named Time's 2018 Person of the Year and listed among its 100 Most Influential People of 2019. She has also been named one of Time's 100 Women of the Year, BBC's 100 Women 2019, and Prospect Magazine's world's top 50 thinkers 2019.
Energetic and eloquent, Maria advises organizations and corporations on corporate governance, values, and strategy. Her experience as a journalist and an entrepreneur in the digital world makes her a sought-after keynote speaker and panelist.
A journalist for over 35 years, Ressa was CNN's bureau chief in Manila, before working as CNN's lead investigative reporter focusing on terrorism in Jakarta. In 2012, she co-founded Rappler, an online news platform with an ethos of a small tech start-up, starting with a team of 12 young reporters and developers. Through the power of social media, Rappler has grown into the fourth-largest news website in the Philippines with over 100 journalists. Maria has been arrested on 10 charges related to exposing the Duterte government's corrupt practices and was convicted of cyber-libel in June. She is out on bail pending her appeal but true to form, Ressa, vows to keep fighting.
More recently, Maria is part of the founding group of The Real Facebook Oversight Board – composed of 25 academics, journalists, and activists that will rival the social media platform's board.
Maria authored Seeds of Terror: An Eyewitness Account of Al-Qaeda's Newest Center of Operations in Southeast Asia and From Bin Laden to Facebook.
Maria was featured in the 2020 documentary "A Thousand Cuts," which profiles her fearless reporting on the abuses of Duterte's presidency, while also illustrating social media's capacity to deceive and entrench political power.
Ressa has vowed to keep fighting and to continue Rappler's journalism.
Carol Off
Former host of 'As It Happens' on CBC Radio
An arts reporter and Ottawa correspondent in the '80s. International CBC correspondent in the '90s and '00s. Award-winning documentarian. Award-winning author. And, was the host of As It Happens from 2006 to 2022.
Carol has somehow packed the work of about four careers into one. As a television reporter, she covered the Middle East, the Balkans, Afghanistan, the United States, the former Soviet Union -- and most other places. She has also covered Canadian military missions around the world, including combat operations in Kandahar after 9/11.
Her work in the Balkans led her to write the best-selling book The Lion, The Fox, and the Eagle: A Story of Generals and Justice in Yugoslavia and Rwanda. Since that book came out in 2000, she's written three more -- including, most recently, All We Leave Behind: A Reporter's Journey into the Lives of Others, winner of the British Columbia National Award for Canadian Non-Fiction.
SFU Vancouver Speaker Series
The SFU Vancouver Speaker Series brings global experts to a local audience. Launched in 2012, the series builds on SFU's rich history of community engagement by exploring critical issues to contribute to better understanding among Vancouver's citizens through an intellectually enriching experience.
Attend online or in person
This event will be held in the Fei and Milton Wong Experimental Theatre at SFU's Goldcorp Centre for the Arts with in-person and livestream tickets available.
A link and password to access the livestream will be emailed to all livestream registrants via Eventbrite shortly before the event
COVID-19 safety protocols: masks required
We require that all in-person attendees wear a mask for this event. While mask-wearing in public indoor settings is no longer mandated under British Columbia's Public Health Act, individual business and event organizeers can choose to require masks on their premises and for their events. We appreciate your continued cooperation!
We ask that you please be respectful and patient with staff, volunteers and fellow attendees and be mindful of others' comfort levels as we all navigate the return to in-person indoor events.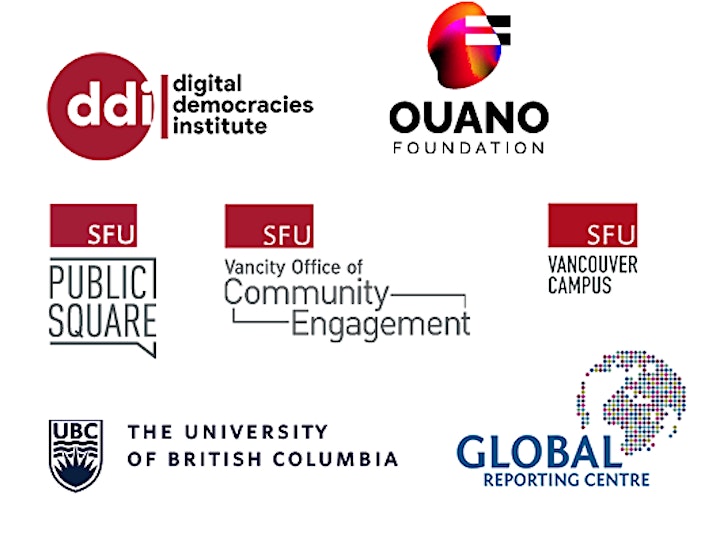 Accessibility
Closed captioning in English will be available through the livestream of this event. A captioned video recording of the event will be emailed to all registrants after the event.
If you have any questions, concerns, or comments regarding this event's accessibility, feel free to connect with us at volspsq@sfu.ca. If you require ASL or other language interpretation please submit this request no later than 3 weeks in advance.
The SFU Goldcorp Centre for the Arts is accessible at street level on the Hastings side or via a ramp on the Cordova Street Courtyard side (across from JJ Bean Coffee). There are 2 ramp entry points, one is located against the building, near the entrance to the Woodward's Westbank Atrium (which houses London Drugs and Nesters) and one is located against the building, beside the alley. Both the Hastings doors and the Cordova Coutryard doors can be operated by accessibility buttons located beside the doorways.
Washrooms
Public washrooms are available on the B2, 2, 3 and 4 levels. All public washrooms are equipped with wheelchair accessible stalls.
A Gender Neutral washroom is available on the B2 level.
Parking
Several EasyPark lots are located near Goldcorp Centre for the Arts (click the links below for daily rates and directions for each lot):
Lot 31 - 160 Water Street - directly north of Goldcorp Centre for the Arts, entrance on water street
Lot 126 - 151 West Cordova Street - also directly north of Goldcorp Centre for the Arts, entrance on Cordova Street
Lot 2 - 150 West Pender - lot on Pender and Cambie, which is only a few minutes' walk from Goldcorp Centre for the Arts
Please note that other parking options are available around Goldcorp Centre for the Arts, including street parking and other parking lots.
Bus and skytrain
SFU's Goldcorp Centre for the Arts is accessible by multiple bus routes. The centre is also a walkable distance from the Waterfront and Stadium-Chinatown Skytrain Stations.
Cycling
Public bike racks are located near the Cordova entrance of Goldcorp Centre for the Arts.
Technology
Online attendees will need a computer (laptop or desktop), tablet or smartphone, with speakers or headphones. A microphone and/or a webcam are recommended if you would like to fully participate in the interactive portions of this event.
We recommend that you use a computer for the best experience of this event. Some interactivity and accessibility features are not available when using a smartphone or tablet.
Protecting your privacy
This event will be recorded, but only the speakers will be visible in the published recording. The recording will be shared with all registrants and published on SFU Public Square's website, YouTube and social media channels.
To ensure that we are using online event technology in a privacy-conscious way, we are following best practices for this online event series:
We will only circulate the event link to those who are registered for the event
We will password-protect the event
We will enable end-to-end encryption
We will not use attention tracking
To protect your own privacy:
We remind you that whatever you say during the event is public, so please do not share sensitive information about yourself or others, and do not say anything you do not wish to enter the public domain.
To protect the privacy of others:
Please do not record or photograph yourself, other participants, or the hosts during the event, unless permission is requested and given.
Community guidelines
Our community guidelines are intended to ensure the safety of all guest speakers and event participants, and to foster honest, socially accountable dialogue at our events. Thank you for respecting our community guidelines!
Above all, there will be zero tolerance for those who promote violence or discrimination against others on the basis of race, ethnicity, national origin, sexual orientation, gender identity, religious affiliation, age, or disability. Anyone who incites harm towards other participants (whether through chat, video, audio or otherwise) will be removed at the discretion of our technical team and moderator.
Don't assume pronouns/gender/knowledge based on someone's name or appearance. Please refer to people using the usernames and/or pronouns they provide.
Take space, make space: share your perspective, and make space for other voices to be heard too. Recognize that we are all here to learn.
Practice self-care in whatever way you need to. If you need to get up or take a break, please do so.