Description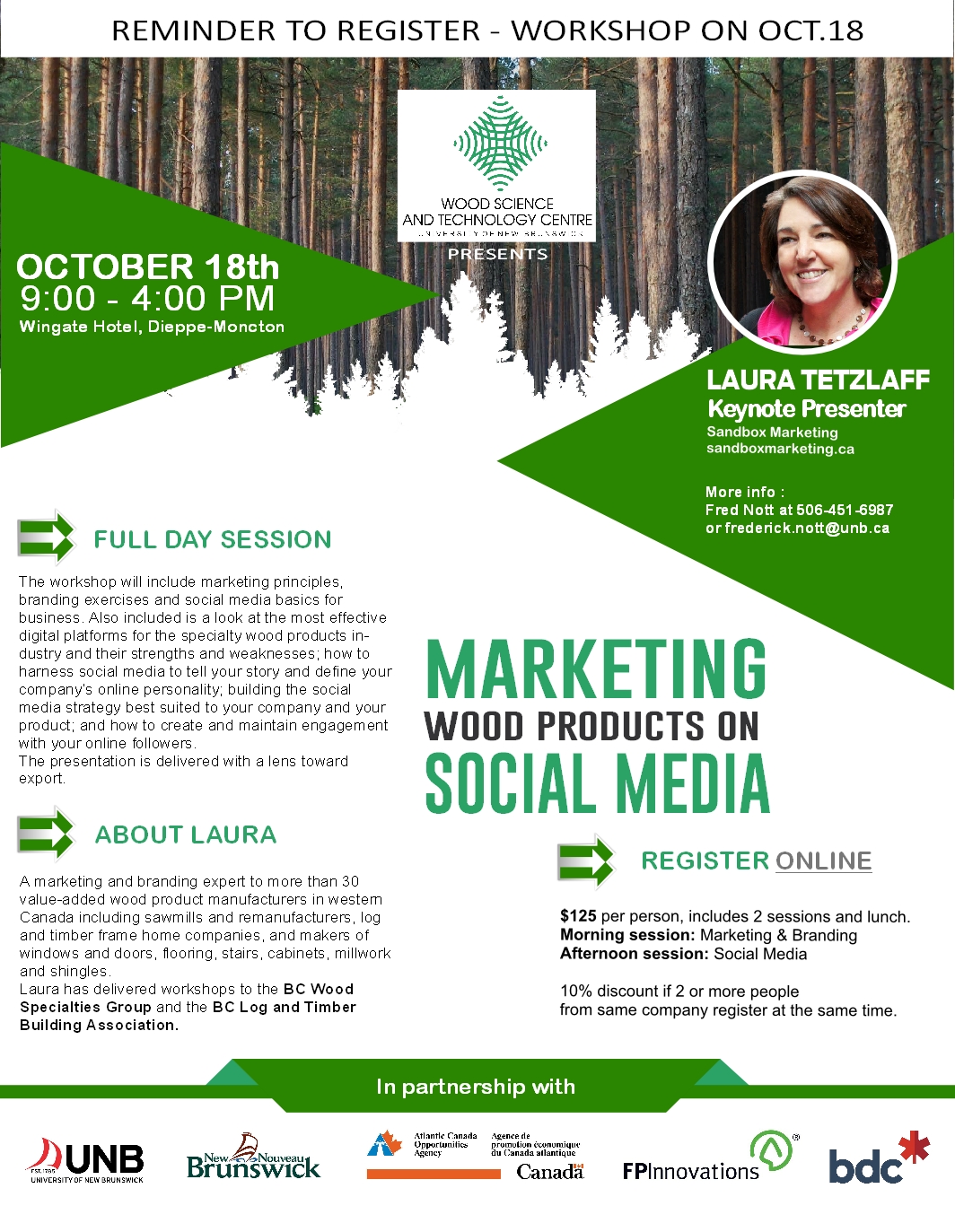 UNB's Wood Science and Technology Centre is proud to present Laura Tetzlaff from Sandbox Marketing as our keynote presenter for the Marketing Wood Products on Social Media Workshop on October 18th at the Wingate Hotel in Dieppe-Moncton.
This is an interactive workshop with presentations, worksheets and hands-on-sessions. Participants should bring their laptop and/or mobile devices and/or notepads.
Who should attend: Owners, operators, managers, marketers + salespeople. Anyone in your organization who communicates with current + potential customers.
Program
Morning Sessions:
Introduction to Marketing
Goal: Understand basic marketing principles and learn the #1 marketing rule
What is marketing and why should you care? In today's competitive world, business leaders need to consistently communicate and properly position their company with their target audiences. We will review seven basic marketing principles, discuss how to apply them to your product or services, and learn some practical planning tips.
How to Effectively Brand Your Company
Goal: Build the right foundation with correct branding and avoid costly mistakes
Do you know the difference between a logo and a brand? Do you tell a great company story that connects with your target audiences? Through a series of self-directed exercises, learn how to define and articulate your company's unique attributes to create meaningful messaging with your target audiences.


Afternoon Sessions:
Social Media Basics
Goal: Learn Social Media basics for business and how it all works
We'll take you through several Social Media + digital platforms and show you:
Why your business needs Social Media

What are the most popular Social Media platforms (for real!)

How the Social Media game works

It's all about relationships

Some Social Media tips + hacks
Social Media Best Practices for the Wood Industry
The 2 best Social Media platforms for the value added wood industry

The importance of defining and understanding your business' online personality

How to harness Social Media to tell your story

Tips on how to create and maintain engagement with your online tribe

Make real time posts during our session
At the end of the workshop, you will have a good understanding of the power of great marketing, the importance of correct branding, and the basics for effective Social Media engagement.
About Laura Tetzlaff
Laura has been helping business owners develop customer-centric brand and marketing programs for over 20 years. Start-up entrepreneurs to large corporations rely on her to cut through the marketing clutter and develop creative campaigns and strategic digital programs to reach their target audiences. For the past 5 years she has been working closely with BC Wood Association members in the value added wood industry to assess their marketing efforts and provide direction to maximize their resources. She is the Principal of Sandbox Marketing, a strategic branding and creative marketing agency. Laura's hands-on, straight-forward presentation style is highly engaging, fun and educational.
www.sandboxmarketing.ca
For more information, contact Fred Nott at 506.451.6987 or frederick.nott@unb.ca
For hotel reservation, please click here.