Description
Title: When Proteins Go Rogue: the Molecular Origins of Neurodegenerative Disease
Neurodegenerative disease is on the rise. At present, more than 564,000 in Canadians live with some form of dementia, a number that is expected to double in the next 15 years. In this York University Scholars Hub, join Dr. Derek Wilson, Associate Professor and expert in bioanalytical and biophysical chemistry at York University, as he shows what neurodegenerative disease looks like at the molecular level. He will explain how our neurons rely on an intricate network of protein interactions to survive and how, occasionally, one of the proteins at the center of that network can go rogue, resulting in catastrophic consequences.
Inside each of our neurons is an intricate network of protein interactions that keeps our cells alive and functional. Derek Wilson will talk about what happens when a protein at the center of this network goes "rogue" and how made-in-Canada tools are revealing the molecular origins of cognitive decay in Alzheimer's, Parkinson's and other scary neurodegenerative diseases.
Stats from: http://www.alzheimer.ca/en/About-dementia/What-is-dementia/Dementia-numbers
Join Markham Public Library and York University as we bring to Markham a taste of the university experience. Each month YorkU faculty will bring their amazing research and provide an opportunity for our community to learn something new.
Click here to view a list of all up coming sessions.
About the speaker: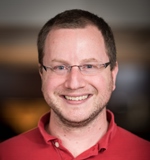 Dr. Derek Wilson completed his undergrad at Trent University, his PhD at Western University and an NSERC post-doctoral fellowship at Cambridge. Dr. Wilson currently uses advanced Mass Spectrometry and Nuclear Magnetic Resonance spectroscopy methods to uncover the structures of proteins in motion. One of the focuses of his research is amyloidosis, which is a process of proteins "clumping together" that is implicated in diseases such as Alzheimer's and Parkinson's. He is a recipient of an Ontario government Early Researcher Award, lead manager of the NSERC CREATE training program in mass spectrometry and scientific director of the 1.6M TBioDM drug development initiative. His research is funded by the Alzheimer's Society of Canada and the Krembil Foundation among others.