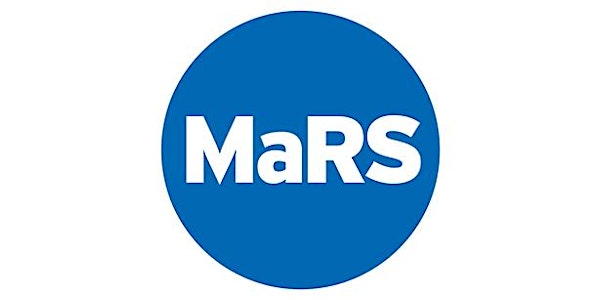 MaRS FinTech presents #P2PLending: The Future of Lending Now - SOLD OUT
When and where
Location
MaRS Discovery District 101 College Street Auditorium Toronto, Ontario M5G 1L7 Canada
Description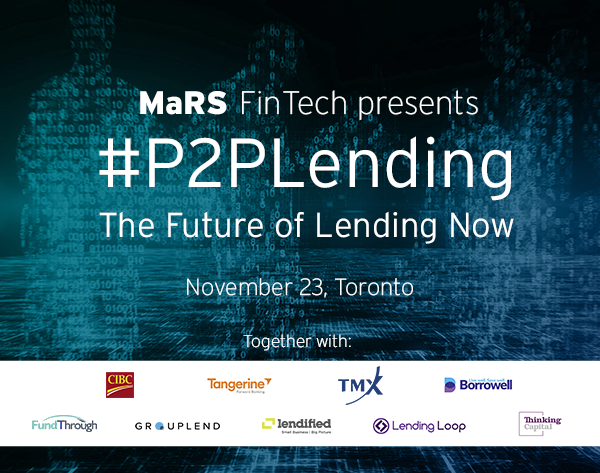 *Please note that this event is sold out. Stay tuned for future events from MaRS FinTech!*

The P2P lending space is one of the fastest growing sectors within #FinTech globally. In Canada alone, we have seen several new startups enter the space within the last quarter. Join us at MaRS' next fintech event, a debate between startup CEOs and fintech executives, to get an in-depth perspective on the lending landscape.
Following the event will be networking opportunities with various industry professionals and complimentary refreshments.
We will be livestreaming the event on Periscope! Download the Periscope app and follow us at @MaRSDD, or stay tuned for the live link on our @MaRSDD and @MaRSDDLive Twitter channels.
AGENDA
5:45 - 6:00 p.m.: Registration
6:00 - 6:05 p.m.: Opening remarks
6:05 - 6:50 p.m.: Panel and Q&A
6:50 - 8:00 p.m.: Networking and cocktails

ABOUT THE SPEAKERS
Charaka Kithulegoda is the CIO of Tangerine. Charaka is responsible for leading and managing the Bank's information technology operations, strategy and infrastructure as well as the architecture, design and delivery of all systems. In addition, Charaka is responsible for the Project Management Office and Testing & Quality Assurance functions.


Jimmy Dinh is Executive Director – Alternate Solutions Group at CIBC. He is building and leading a team to envision, design, build and manage the P&L for a new breed of Capital Markets products focused on: FX, Payments, Money Movement and "The Future Of Money".


Eva Wong is Chief Operating Officer of Borrowell. She has 15 years' experience in the business and not-for-profit sectors, both in Canada and abroad, and has worked at Oliver Wyman, Maple Leaf Foods and the United Nations Development Programme.


Steven Uster is the Co-Founder and CEO of FundThrough, a venture capital backed Canadian online lender that uses technology and data to provide lines of credit against outstanding invoices so that small businesses can grow. Prior to FundThrough, Steven was an investment banker in New York at UBS and then at Centerview Partners.


Troy Wright is the CEO and Founder of Lendified. He oversees the vision, strategic direction, risk management and leadership of the company. Prior to Lendified, Troy was the President and CEO of the Scotiabank Group Mexico, the largest subsidiary of Scotiabank outside of Canada.


Kevin Sandhu is the Founder and CEO of Grouplend, a leading online lending platform. He brings over a decade of finance experience with roles in investment banking, private equity and structured finance with companies including RBC Capital Markets and Connor, Clark & Lunn Financial Group.


Jeff Mitelman is the CEO and Co-founder of Thinking Capital. He has garnered tremendous experience over his career building independent financial products and integrating new business models into the Canadian financial system.


Adam Nanjee is the Head of Financial Technology at MaRS Discovery District. Adam joined MaRS from MasterCard Canada, where as vice president of business development in emerging payments, he drove the company's strategy and partnerships in the digital payment space.