Description
MaRS Mornings is a monthly breakfast series that celebrates creative founders in the innovation community. Start your day with a coffee and inspiring talks from experienced entrepreneurs, visionary business leaders and innovators.


Join us for our next MaRS Mornings with speaker Cedric Mathieu of Turo.
Cedric is the country director for Turo in Canada. Often described as the "Airbnb of cars", Turo is the world's leading peer-to-peer car sharing platform, with 10 million users worldwide and $200M+ in funding from investors like KPCB and Daimler AG.
Since launching Turo in Canada in 2016, Cedric has been on a mission to reinvent the way Canadians think about their cars. Under his leadership, Turo has become the largest and fastest growing car sharing network in Canada, with more than 550,000 members.
Before moving to Canada to spearhead Turo's first international expansion, Cedric was the first Director of Finance for the company in San Francisco. A native of France, Cedric holds an MS in Management from HEC Paris, and an MS in Entrepreneurship from RSM Erasmus University in Rotterdam.
Join us for a discussion with Cedric about bringing a disruptive marketplace to Canada, and how Turo is shaping a new future for the automotive, car rental, and insurance industry. Following a short presentation, Cedric will be joined by Osh Momoh, Chief Technical Advisor at MaRS, for a fireside chat.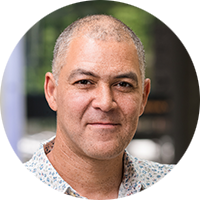 Oshoma (Osh) is Chief Technical Advisor at MaRS, where he is responsible for advising ventures in emerging technology areas such as artificial intelligence, autonomous vehicles, cybersecurity, blockchain and advanced networking. He is an experienced entrepreneur with deep technical and business expertise in the software industry. He greatly enjoys designing and building technology-based products.
Before joining MaRS, Osh worked at a series of tech startups in founder and CTO roles. Prior to entering the startup space, he spent 10 years at Microsoft in a variety of product groups, including leadership positions in web search and developer platforms. Osh also served as a technology advisor to top executive staff.

AGENDA
8:00 – 8:30 a.m.: Registration and light breakfast
8:30 – 9:30 a.m.: Presentation and Q&A