MaRS Pitching to Investors - October 11 & 18, 2013 - Part of the Fall Intensive Program
When and where
Location
MaRS Discovery District, CR2 101 College Street Toronto, Ontario M5G 1L7 Canada
Description
Important: This workshop series also forms part of our new Fall Intensive Program, which combines our five workshop series and runs weekly on Fridays from September 13 to November 29, 2013. If you wish to attend the all five series through the Fall Intensive Program, please register at http://mars-fall-intensiveprogram.eventbrite.com.
If you wish to attend only the Business Strategy Fundamentals workshop series, please see the details below and register on this page.
Pitching to Investors
(2 sessions, 4 hours each)
Entrepreneur's Toolkit Workshops are experiential, hands-on workshops facilitated by experienced entrepreneurs. The workshops offer ventures tools, mentoring and peer feedback to solve specific problems and develop essential business components.
In each four-hour session you will generate a deliverable that you will use frequently in the business development process.
What will you get out of the Pitching to Investors workshop series? Watch the video below to learn what other entrepreneurs are saying.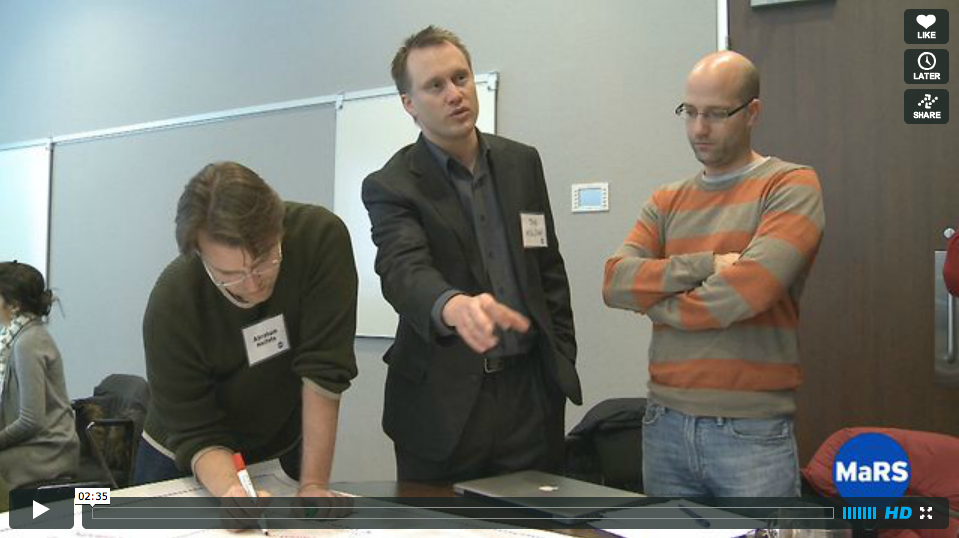 (http://www.marsdd.com/pitching-to-investors)
Workshop Schedule
October 11,

8:30 a.m. - 1:00 p.m.
MaRS CR2
Session 1 – Telling Your Investment Story
Using the principles of storytelling, craft a compelling narrative that introduces your venture to investors.
Deliverable: A summary of the 10 key components of your investment story.
October 18,
8:30 a.m. - 1:00 p.m.
MaRS Studio
Session 2 – Pitch Deck and Business Plan
Learn how to effectively communicate a pitch deck and a business plan to investors. We'll give you the know-how, content and tools to turn your own investment story into a compellingpresentation and a draft business plan.

Deliverable: Begin drafting a 10-slide pitch deck and a business plan.
Cost of workshops

The Entrepreneur's Toolkit Workshops are valued at $560 per session but are charged at $100 per series.
The Ontario Network of Entrepreneurs (ONE) covers the cost for its clients. MaRS clients are automatically ONE clients since MaRS is a member of ONE. If you are not a client of MaRS or ONE, please visit onebusiness.ca to see how to become a client at the Regional Innovation Centre (RIC) near you.
Although the workshops are free of charge for ONE clients, a $100 deposit will be held at registration, which is fully refunded to ONE clients upon completion of all sessions in the series.
If you are unable to attend a workshop session, please let us know four business days in advance. We regret that failure to do so may result in the loss of your deposit.
Non-clients are welcome to attend workshops at a cost of $100 per series.
All participants will need to sign a non-disclosure agreement (NDA). For more information, please contact workshops@marsdd.com.