Event Information
Location
MaRS Discovery District
101 College Street
Suite : 100 - CR3
Toronto, Ontario M5G 1L7
Description
The role of the chief marketing officer (CMO) is changing rapidly.
With the proliferation of new channels, agile processes and +6,000 marketing technologies, connections across companies and with customers are becoming deeper and more effective. Today's CMO needs to be data-driven and creatively inspired to help brands scale.
In this session, we're bringing together four of Canada's leading growth experts to help marketers take full advantage of new technology, processes, and advanced analytics tools. We'll help you and your team become more agile, engaging and effective.
What you will learn from the experts:
Who should attend?
Individual(s) responsible for the marketing within medium to large enterprises;

Marketing trailblazers and intrapreneurs preparing the CMO office for the future; and

Marketers who need to shift their organizational model, build a community and develop growth channels.
---
Agenda
8:30 - 8:50 a.m.: Networking and breakfast
8:50 - 8:55 a.m.: Welcome and agenda – Nathan Monk, Growth Programming, MaRS Discovery District
8:55 - 9:00 a.m.: CMO Tech Disruptors introductions – Krista Jones, managing director, MaRS Work & Learning
---
Opening Speaker
9:00 - 9:20 a.m.: Danielle Brown, CMO, Hubba – The shift from cost centre to profit centre
---
Panel
9:20 – 9:50 a.m.: All speakers – The future of the CMO office, moderated by Nathan Monk, growth programming
9:50 - 10:00 a.m.: Q&A
---
Networking Break (20 mins)
---
Session 1: Using AI to build a next generation customer experience
10:20 - 10:40 a.m: Dr. Hossein Rahnama, founder and CEO, Flybits
10:40 - 10:50 a.m.: Q&A
---
Session 2: Leveraging social channels and influence to build community
10:50 - 11:10 a.m.: Richard Wong, VP of marketing, #paid
11:10 - 11:20 a.m.: Q&A
---
Session 3: Experience matters most: Marketing to the millenial generation
11:20 - 11:40 a.m.: Jonah Midanik, CEO at LimeLight
11:40 - 11:50 a.m.: Q&A
---
Networking Lunch
11:50 a.m. – 12:30 p.m.
***Networking refreshments and lunch provided by MaRS Discovery District.
---
About MaRS Tech Disruptors
Our MaRS Tech Disruptors series brings together visionary founders and thought leaders to educate on and transform the way we go to market and scale our companies. Our mission is to create a conversation across and between industries that are at the heart of innovation. The goal: help those being disrupted to become the disruptors and embrace change.
---
Opening Speaker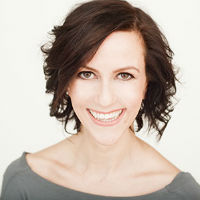 Danielle Brown, Chief Marketing Officer, Hubba
Danielle Brown sits on the Hubba executive team as chief marketing officer and she's charged with leading the company's global marketing vision and driving the brand forward.
Having kicked off her career within a traditional marketing environment, she quickly made a name for herself with her knowledge of data analytics, how they intersect with creative marketing and the metrics to drive success. An expert in change management, over the last 15 years Danielle has been responsible for building and growing a number of successful marketing teams at national and global companies.
She is a trained negotiator and facilitator, who is skilled at building consensus and driving businesses forward. Today, she is focused on helping independent brands and retailers further their businesses through community and connection and igniting the retail industry. Speaking at conferences on topics of marketing, leadership, and entrepreneurship, her insight can be found on her Medium blog and Twitter feed. Danielle finds inspiration through her love of literature, and her active involvement in the music and arts community in the city.
About Hubba
Hubba is like a dating app for wholesale brands and buyers.
Tell them about the kinds of products you are looking for and their powerful machine learning and human matchmaking team will connect you to relevant, verified brands.
Speaker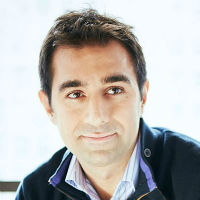 Dr. Hossein Rahnama, Founder and CEO, Flybits
Dr. Hossein Rahnama is the founder and CEO of Flybits. A recognized figure in ubiquitous and pervasive computing, his research explores artificial intelligence, mobile human-computer interaction, and the effective design of contextual services.
Hossein was named one of Canada's Top 40 Under 40 in 2017 and recognized by the MIT Technology Review as one of the world's top innovators under the age of 35 in 2012. Hossein has 30 publications and 10 patents in ubiquitous computing, was a council member of the National Science and Engineering Research Council (NSERC), and serves on the board of Canadian Science Publishing (CSP). Hossein is also a visiting scholar at the Human Dynamics group at MIT Media Lab in Cambridge, MA. He has a PhD in computer science from Ryerson University.

About Flybits
Flybits is a context-as-a-service company that hides the complexity of data intelligence and contextualization. Their solution unifies disparate sources of proprietary, public and sensory data, enabling enterprises to create and deliver highly personalized customer experiences that drive digital engagement. Flybits gives you the ability to deliver the right content to the right consumer, where and when they need it. For more information, visit www.flybits.com and follow them at @flybitsinc.
Speaker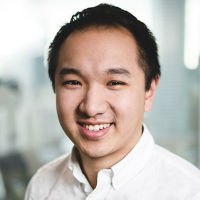 Richard Wong, VP Marketing & Creator Relations at #paid
Richard Wong is the VP of marketing & creator relations at #paid. He is a seasoned, classically-trained marketer who came from the world of CPG marketing and moved into the tech world. Richard launched and grew Google's source for insights, trends, and research in digital marketing – Think with Google. He also teaches the digital marketing classes at Canadian tech schools, Brainstation, RED Academy, and Camp Tech.
About #paid
#paid is the world's leading influencer marketing platform for authentic brand collaborations. Top brands like Anheuser-Busch, PepsiCo, and Chevrolet trust their proprietary matching algorithm and dedicated team to find the right influencers, deliver engaging authentic content, and measure ROI.
Influencers are compensated for creating unique content in collaboration with brands, from blog posts to videos, photos and status updates. Brands receive engaging and powerful consumer content and highly shareable stories that drive awareness and purchase intent.
Speaker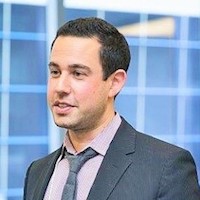 Jonah Midanik, CEO at Limelight
A serial entrepreneur with nearly two decades in marketing and technology, Jonah has held a wide variety of roles in the marketing space. Jonah has a diverse background, from his engineering training to founding and running an experiential agency – Immersion Media (since it exited) – to several VP of marketing roles at consumer brands in both Canada and the US. Today, Jonah spends his days as the founder and CEO of Limelight Platforms, the leading platform for consumer brands and their agencies to get the most out of their live experience marketing activities.
About Limelight
Limelight Platforms helps brands prove and improve the ROI of live marketing, such as experiential programs, demos, trade shows, test drives and VIP events. With Limelight, brands can plan, build, communicate and measure their live marketing activities using a single, integrated platform that syncs seamlessly into CRM systems. The venture-backed company has offices in Toronto and San Francisco.
Introductions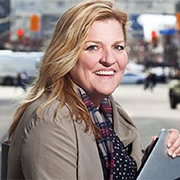 Krista Jones, Managing Director, Work & Learning
Krista is the managing director of Work & Learning at MaRS. Krista has been a passionate innovator and builder of technology-based businesses for over 25 years, and has personally advised and been actively involved in over 200 startups.
For the past four years, Krista has been the driving force behind the creation of MaRS' globally-leading Work & Learning sector. She works with entrepreneurs, corporate leaders, investors and technologists who are applying innovation and cutting-edge technologies to create solutions that are advancing the competitiveness of global workers and workplaces.
Krista has experience working in both large public companies and in startups. She is an engineer, entrepreneur, mentor and an expert at solving ambiguous problems. She has a unique combination of strategic, technical, operational and marketing expertise. She is known for her comprehensive knowledge of existing and emerging Information & Communications Technology (ICT) architectures, technologies and innovation practices.
Krista and her husband owned a children's technology educational franchise that fostered early innovation and creativity in robotics, animation, digital art and video game design.
About Work & Learning
The Work & Learning team supports a portfolio of high-growth ventures that help businesses keep up with the ever-changing world of work. From sales enablement software to business intelligence applications and talent acquisition technology, these solutions can drive significant business outcomes and collectively help to build the "intelligent enterprise".
Host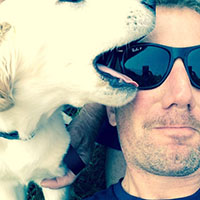 Nathan Monk, Growth Programming
Nathan is a senior growth expert, mentor and entrepreneur who is passionate about closing the growth marketing skill-gap in Canada. He brings nearly 15 years of experience in sales, marketing, and brand building, having worked directly with over 1,000 early-stage and high-growth later-stage ventures. He is an original cast member of the 'lean movement' in Canada, leading Techstars Startup Next pre-accelerator, which graduated over 30 ventures who've gone on to raise over $40 million in capital between them, founding the Startup Bookclub, participating in Lean Coffee, and bringing Eric Reis' Lean Startup Day to Canada.
Most recently, Nathan initiated the first GrowCamp in Canada for MaRS; a six-day growth programming camp that included high-growth ventures, corporate partners, plus a collaboration with Google Canada. It was the first of its kind in the country and lead to the creation of the Growth Marketing Playbook, now available to entrepreneurs. Nathan is also trained in Osterwalder's Business Model Generation and Steve Blank's startup growth methodologies.
Nathan is passionate about giving back to the LGBTQ community too – he's worked as a board member and the race director of Canada's largest Pride Run here in Toronto and was a guest speaker and workshop facilitator at Venture Out, Canada's first LGBTQ conference. Nathan holds an HBA from the Richard Ivey School of Business.
About Growth Programming at MaRS
If you're not growing as a company, your chances of surviving are slim. Today's company needs to achieve aggressive growth milestones, while efficiently building a team that scales, establishing a martech stack, aligning processes and discovering new channels. Growth Programming at MaRS connects you to the tools, people and skills to make it happen.
Date and Time
Location
MaRS Discovery District
101 College Street
Suite : 100 - CR3
Toronto, Ontario M5G 1L7