Fear Expert, Mary Poffenroth, addresses the everyday fears and stresses we have, and how we can reframe them from threats to opportunities.
About this event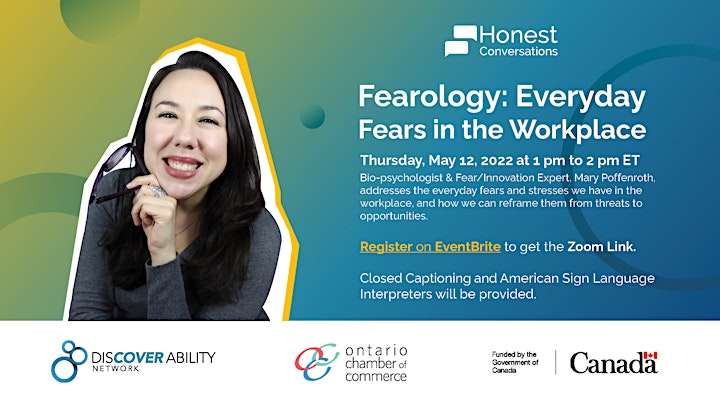 What do you do when you're stressed and anxious? Some take a walk. Some get a snack. And some even meditate. But have you stopped and wondered where your stress and/or anxiety comes from? Or why they come back even after some self-care?
Joining us for an interactive Honest Conversation is Mary Poffenroth, Biopsychologist, TEDx Talker, and expert in #fear, speaking all about stress, anxiety, and the F-word: Fear. Learn of why stresses and anxieties can derive from fear, and how the most successful people embrace fear.
Interactive Links: This interactive webinar will be using collaborative tools below. No download or purchases will be required. A special link will be sent out on the day of the event, and will be re-linked in chat.
- Miro: An virtual collaborative whiteboard.
- Mentimeter: Interactive Wordcloud.
About Mary Poffenroth:
Mary Poffenroth turns chaos into clarity by sharing proven scientific methods and using the power of play to help you overcome your everyday fears. Her work as a biopsychology researcher will help you discover innovative solutions for growth and success. Mary has taught nearly 20,000 adults since 2007 as STEM faculty for Silicon Valley's San Jose State University, where she has made inclusion and accessibility a top priority. In addition to being a Salzburg Global Fellow, she has spoken at TEDx London, Harvard, the American Psychological Association, and SXSW, with her work featured in TIME magazine, Forbes, Science, Entrepreneur, and National Geographic. Offstage, she splits her time between Los Angeles and San Francisco with her rescue pup Bandit, loves Supernatural YA novels, and can drink her weight in fizzy water. As a must watch, Mary recommends her TEDx London talk, The Myth of Fearlessness, for help navigating the everyday fears we all face.
Date: Thursday, May 12, 2022.
Time: 1:00 p.m. to 2:00 p.m.
Please contact Elizabeth Novak @ ElizabethNovak@occ.ca if you require an accommodation. This session will have closed captions and American Sign Language (ASL) Interpreters. This session will be recorded.
American Sign Language Interpreters are brought to you by the Toronto Sign Language Interpreter Service