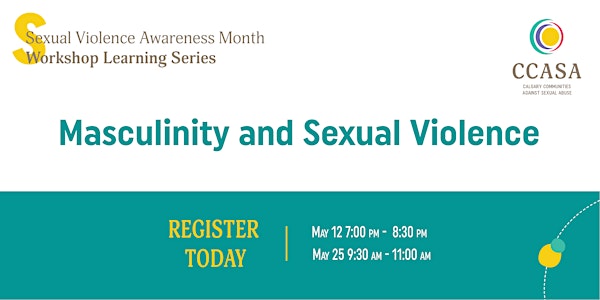 Masculinity and Sexual Violence
Workshop Learning Series for Sexual Violence Awareness Month
About this event
About this Event
1.5 HOURS ONLINE WORKSHOP - By Calgary Communities Against Sexual Abuse (CCASA)
ABOUT THIS WORKSHOP
This workshop is for anyone who is interested in being a part of the ever-growing conversation about men and masculinity. We will delve into the reasons that men are responsible for the majority of sexual violence with a close examination of societal standards and expectations of masculinity. Participants will gain the tools to identify, critique, and intervene in the harmful messages about masculinity that contribute to sexual violence.
Who will benefit from these workshops?
Anyone! This workshop is intended for anyone wanting to know more about Sexual Violence and and the standards and expectations of masculinity. How do I attend the workshop? This workshop will take place using the conferencing platform Zoom, and the link and password will be sent out 24 hours in advance of the workshop. The workshop is interactive. We strongly encourage all individuals accessing the workshop to have a computer/laptop that enables them to see video, hear audio, and have microphone access.
FAQ
Can I buy more than 1 ticket? We currently have a limit of 1 RSVP ticket per person. If you are looking to book a presentation for a larger group of people or for multiple staff members of a workplace or organization, please contact us at education@calgarycasa.com for more information on group training options.
Are the workshops confidential?At CCASA confidentiality is of utmost importance. We ask that you do not share the workshop Zoom link with others in order to ensure confidentiality of all other participants.