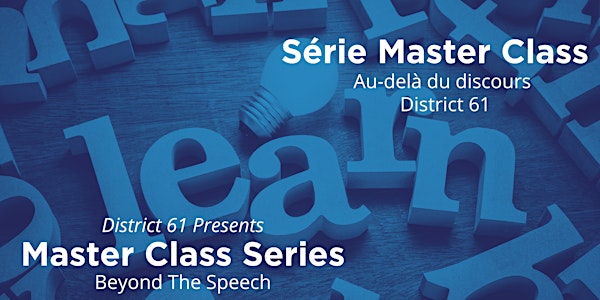 Master Class Series: Beyond the Speech / Série Master Class: Au-delà du dis
Master Class Series: Beyond the Speech / Série Master Class: Au-delà du dis
About this event
Explore the world of Communication and Leadership on Saturday 2020-11-21, a morning full of educational workshops to enrich your Toastmasters Journey inside and outside of Toastmasters .
Agenda:
08:00 - Event Opens
08:30 - Opening Remarks
08:45 - Coaching Conversations: Toastmasters and Beyond
How can coaching a club affect you beyond your Toastmaster Journey?
09:55 - Utilizing Toastmaster Skills
Do you wonder how the roles of a Toastmasters Meeting can impact your life outside of the meeting? Learn how Toastmasters can affect your personal and professional life.
11:00 - Enhance Your Online Presence
How can you deliver a dynamic speech online? Learn how to use the camera, your body language and your vocal variety to enhance your message.
Your zoom link will be emailed to you.
Explorez le monde de la communication et du leadership, le 2020-11-21, ce sera un avant-midi rempli d'ateliers pédagogiques permettant d'enrichir votre cheminement Toastmasters, à l'intérieur et à l'extérieur de Toastmasters
Agenda
08:00 - Ouverture de l'événement
08:30 - Remarques d'ouverture
08:45 - Conversations sur le coaching:Toastmasters et ailleurs
Comment coacher un club a-t-il de l'impact au-delà de votre cheminement Toastmasters?
09:55 - Utiliser les compétences Toastmasters
Vous questionnez-vous sur l'impact produit par les rôles d'une réunion Toastmasters peuvent avoir dans votre vie, à l'extérieur de la réunion? On vous apprendra comment Toastmasters peut influencer votre vie personnelle et professionnelle.
11:00 - Améliorer votre présence en ligne
Comment donner un discours dynamique, en ligne? Apprenez l'utilisation de votre caméra, de votre langage corporel et votre variété vocale de façon à améliorer votre message.
Nous vous enverrons le lien ZOOM dans un courriel