Event Information
Location
Ryerson Image Centre
33 Gould Street
Main Lobby
Toronto, ON M5B 1E9
Canada
Description
We're living through a period of disruption as digital media transforms the face of work, leisure, technology, entertainment, and education in our lives.
Join us at #MDMSpotlight for an evening that will transport you to the future of digital media. Learn about the latest research in this ever evolving field, take part in an engaging panel discussion and meet like-minded individuals from across the GTA.
Master of Digital Media (MDM) Spotlight 4.0 is the culmination of work by the 2016-2017 cohort of the MDM program at Ryerson University. For the past year, students have explored the evolving role of digital media on our lives by working on unique Major Research Projects ranging from 3D models of Egyptian relics, applications for visual based learners, quantum computing, transmedia storytelling, social media marketing and more.
We will also be hosting a panel discussion about the future of Digital Media featuring Richard Lachman of Ryerson University, Gregory Levey of Figure 1 and Maayan Ziv of AccessNow. The panel discussion will take place at 4:15 PM.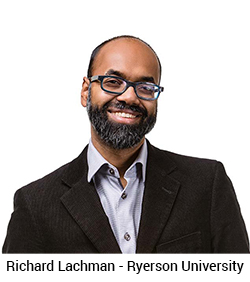 Richard Lachman directs Zone Learning for Ryerson University, Research Development for the Faculty of Communication and Design, and the Experiential Media Institute. He is an Associate Professor, Digital Media in the RTA School of Media. Lachman's work in transmedia has garnered a Gemini, CNMA and Webby Honouree awards, and he has lead collaborative design exercises with UNICEF, TIFF, Penguin UK, Kobo, the CRTC, and others. Richard completed his doctorate at UNE in Australia studying software recommendation-engines, did his undergraduate work in Computer Science at MIT, and holds a masters degree from the MIT Media Lab's "Interactive Cinema" group. He was part of a startup acquired by Mattel, ending as Lead Designer and Lead Engineer for the Petz software with over 3 million units shipped worldwide. Dr Lachman's areas of research include transmedia storytelling, digital documentaries, augmented/locative/VR experiences, mixed realities, and collaborative design thinking.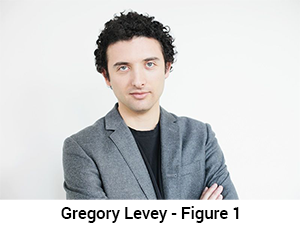 Dr. Gregory Levey is an Associate Professor in the School of Professional Communication and the School of Graduate Studies. His research interests are interdisciplinary, and include the intersections of communications, media, politics, business, and writing.
Dr. Levey is the author of Shut Up, I'm Talking: And Other Diplomacy Lessons I Learned in the Israeli Government and How to Make Peace in the Middle East in Six Months or Less Without Leaving Your Apartment, both of which were published by Simon & Schuster/Free Press.
He has also either written for, been featured in, or worked with The New Yorker, The New York Times, The New Republic, The Globe and Mail, The National Post, Time, Newsweek, Macleans, Toronto Life, The New York Post, Gawker, Salon, BBC, FOX, CNN, CBS, ABC, NPR, CBC, CTV, and many others.
Dr. Levey holds a B.A. from the University of Toronto, an M.A. from New York University, a J.D. (law degree) from Fordham University, and a Ph.D. from the University of St. Andrews in Scotland.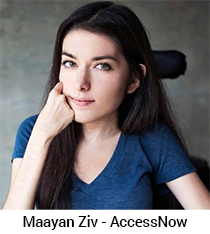 Maayan Ziv is an activist, a photographer and an entrepreneur based in Toronto, Canada. From a young age, Maayan challenged norms and worked within her community to increase awareness of disability issues and improve accessibility.
Living with Muscular Dystrophy, Maayan is a passionate and relentless advocate for creating a more accessible world. In 2015, Maayan founded AccessNow, a crowdsourced app to map the accessibility status of locations worldwide. She has since been a regular media commentator in the media on topics such as disability and inclusion. In 2016, Maayan received the City of Toronto Access Award and the David C. Onley Leadership in Accessibility Award in recognition of her innovative solutions and commitment to improving the lives of people of all abilities.
As a photographer, she has worked with celebrities, fashion models and other influential individuals. Focusing on black and white emotive portraiture, editorial fashion, and gritty street scenes, Maayan has been recognized as an influential Canadian talent. A Queen's Diamond Jubilee medal recipient, her work has been featured on television, in galleries and magazines. Sitting on a wheelchair gives Maayan a unique perspective that is evident in her work and as a freelance artist, her goal is to bring awareness to disabilities and the arts -something she prides to work at everyday.
Maayan also sits on the boards of the Toronto Arts Council and the Centre for Independent Living in Toronto. She earned a Bachelor's degree in Radio and Television Arts and a Master's degree in Digital Media at Ryerson University.
Important note: 4:00 - 7:00 PM are simply the showcase hours. You can drop in any time between those hours on August 23. Panel Discussion begins at 4:15 PM.
Date and Time
Location
Ryerson Image Centre
33 Gould Street
Main Lobby
Toronto, ON M5B 1E9
Canada