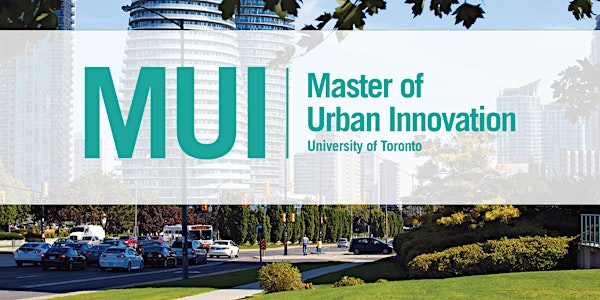 Master of Urban Innovation (MUI) Info Session, University of Toronto
Learn more about the Master of Urban Innovation (MUI) admissions process at the University of Toronto! Deadline to apply is March 11, 2022.
About this event
Welcome to the Master of Urban Innovation (MUI) program at the University of Toronto. The MUI is a 20-month professional masters program for students interested in urban issues and economic development. The program is uniquely designed to provide a new generation of practitioners with an in-depth understanding of the role that innovative, vibrant, liveable and supportive city-regions play in sustaining the quality of life and economic well-being of Canadians.
Through the Master of Urban Innovation program, students will be trained to lead and manage innovative urban economic development initiatives. Students will take classes taught by faculty with expertise in economic development, public policy, management, government administration and finance. In addition, each student will participate in an academically-supported and practice-oriented summer internship that will provide them with an opportunity to apply foundational knowledge and ideas in the workplace. The program will prepare graduates to play a critical policy and leadership role in implementing strategies that promote innovative, equitable and sustainable cities and city-regions.
Join our virtual Webinar and Info session to learn more about the admissions process for Fall 2022. Deadline to apply for MUI is March 11th, 2022.
Webinar/Info Sessions will be hosted virtually via zoom on:
Thursday, February 17th 11am-12pm EST
Thursday, February 24th 5pm - 6pm EST
Thursday, March 3rd 11am -12pm EST
Applications can be submitted online via: https://admissions.sgs.utoronto.ca/apply/
If you have questions or concerns, please email: mui@utoronto.ca