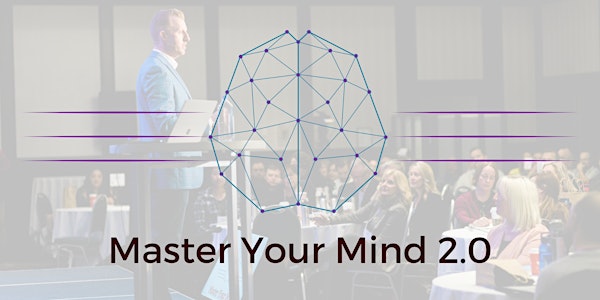 Master Your Mind 2.0
This 2-Day LIVE seminar will teach you the strategies, mindsets and action steps to create new levels of growth, success and happiness!
Date and time
September 16 · 9am - September 17 · 5pm MDT
Location
Delta South Edmonton 4404 Gateway Boulevard Northwest Edmonton, AB T6H 5C2 Canada
Agenda
9:00 AM - 5:00 PM
Saturday Sept 16, Lunch 12-1:30pm
9:00 AM - 5:00 PM
Sunday Sept 17, Lunch 12-1:30pm
About this event
1 day 8 hours

Mobile eTicket
This 2-day LIVE seminar and workshop will teach you how to Master Your Mind and in turn Master Your Life. Join us Sept 16 - 17 to make some massive moves in your life!
General seating and VIP premium seating available (VIP tickets will include your lunch covered both days and premium seating)
Have you ever thought to yourself:
I know I am capable of so much more than what I've been doing
I want to go to all new levels of health, wealth and happiness
I see other people succeeding and I want to be a part of that
I believe that I can attract better things in my life but I just don't know how
I want more! More money, more health, more relationships, more joy. All of it.
If you're like most of us, we've thought a lot of these if not all of them. Master Your Mind 2.0 is designed to help YOU achieve the life you really want.
You'll learn how to attract more money into your life, how to get out of your own way, how to accomplish the goals you have without having to sacrificing more and more hours, creating your ideal life and much more.
You will be learning how you are creating all the results in your life on both a conscious and subconscious level in the areas of health , wealth, relationships, and happiness. Even more importantly, how can you reprogram your mind to give you the results you really want?
I'm Ben Spangl and I'll be your host for the event. As an entrepreneur, speaker, podcast host, husband, and father. I've watched my entire life transform through the principles that we will be going through. From broke to prosperous, from shy and no self-esteem to confident, from a construction worker with no business background to a successful entrepreneur, from a skinny fat guy to a pretty fit guy, from unhappy to pretty darn happy most of the time. Everything I will be teaching is exactly what I've used to create a dream life and most importantly a life that I love NOW, not waiting for some magical future day to enjoy my life.
The workshop will be filled with teachings on the mind, some quantum physics, the law of attraction, some ancient wisdom, and blending modern-day science with spirituality. You will be receiving a customized workbook for the event filled with exercises and tools you can use and apply in your life right away to start creating the life you want without having to work harder, hustle more, or put in more hours. Instead, you'll probably notice it's the opposite. Using these teachings and tools you'll be able to create better results than ever before and enjoy more time for the things that are most important to you in your life.
There will be custom meditations and visualizations at the event to help you in reprogramming your mind as well as time for Q & A.
The event will run from 9:00am to 5:00pm MST on both September 16 & 17
Lunch break will be from 12:30pm - 1:30pm both day
(General Admission lunch will be on your own, VIP lunch is included both days)
VIP tickets get you premium seating, a custom swag bag and your lunch on both days will be provided!
Most importantly, we're going to have an amazing time and you will walk away inspired, recharged, and looking forward to your life possibly more than ever before!
Frequently asked questions
What's included in my ticket?
Is there food served at the event?