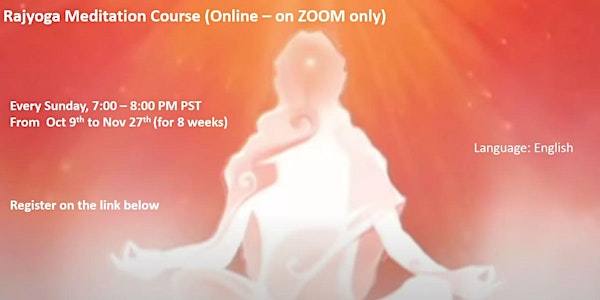 Master Your State of Mind | Rajyoga Meditation Course | English
Beginner Meditation Course (Online only). Open to All. Free of Charge
About this event
Learn Rajyoga meditation practice to experience peace, inner strength and wisdom through 'yoga for the mind'.
Explore how to:
harness your thoughts, emotions and responses
experience the beauty of the true self
understand the nature of our consciousness
connect with the higher consciousness
use your 8 spiritual powers
use meditation skills in your daily life
This course includes learning Rajyoga meditation technique, spiritual knowledge, discussions, questions and answers.
Every Sunday from 7:00 - 8:00 PM PDT starting on Oct 9th for 8 weeks
Number of Sessions: 8 (Meet over the same zoom link)
Language: English
To take maximum benefit connect by 7pm and attend all 8 sessions.
For online participants: The zoom link will be sent to you before the event on the registered email address.
Check us out at www.vancouver.brahmakumaris.ca
For questions email us at: vancouver@ca.brahmakumaris.org
The Brahma Kumaris World Spiritual Organization is an international non-governmental organization dedicated to creating peace. We acknowledge the intrinsic goodness of all people and teach a practical method of meditation that helps individuals understand their inner strengths and values. A worldwide family of individuals from all walks of life, we are committed to spiritual growth and personal transformation, believing them essential in creating a peaceful and just world. Acknowledging the challenges of rapid global change, we nurture the well-being of the entire human family by promoting spiritual understanding, leadership with integrity and elevated actions towards a better world.