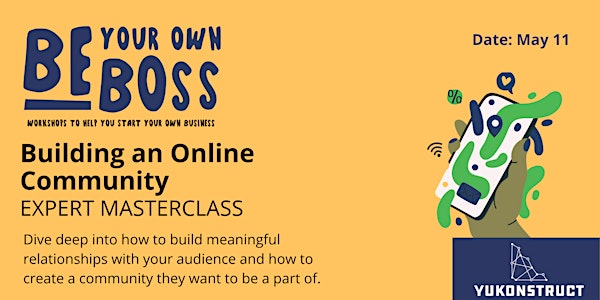 Masterclass: Building an Online Community
This masterclass will dive deep into how to build meaningful relationships with your audience and how to create a community they want to be
About this event
Customers no longer want to buy from brands. They want to be a part of a community.
By building a community around your business, you can build a loyal audience who is not only excited to buy from you, but also wants to help you tell your story to the world.
This masterclass will dive deep into how to build meaningful relationships with your audience and how to create a community they want to be a part of.
This Masterclass is part of the Be Your Own Boss Program, a 12-week program that will help you get inspired, refine your idea or passion, and turn it into a business.
Walk away with a solid business idea and clear next steps to get it off the ground. You'll master pricing, building a business budget, selling online, and how to find your customers and turn them into your biggest champions.
If you're ready to get inspired and launch your business with hands-on workshops, access to expert mentors, and a community of support, register for the full program.