Learn how to control watercolour timing and the best way to connect shapes of similar value in order to paint loose and vibrant art.
About this Event
MASTERCLASS - CAPTURE THE FUNDAMENTAL ESSENCE IN WATERCOLOUR WITH FABIO CEMBRANELLI
The objective of the workshop is to show the wide range and flexibility of watercolour medium and to guide all participants in developing loose and spontaneous techniques, enhancing their own personal intuitive approach.
The focus will be on how to control watercolour timing and the best way to connect shapes of similar value in order to paint loose and vibrant watercolours, taking advantage of the flow of the medium.
Fabrio Cembranelli will guide artists in developing loose and spontaneous watercolour techniques enhancing their own personal approach. Fast wet in wet painting, keeping it fresh and composition will be covered.
There will be daily demonstration paintings followed by plenty of individual attention as well as critique sessions. When he paints he aims to take the essential of each subject through his own interpretation.
Workshop Subjects may include:
Still life: Flowers (some fruits and vegetables can be included)
Landscapes: Water, Greens (Trees), Sky (Mountains) and Façades (Doors, Balconies, Windows and Gates)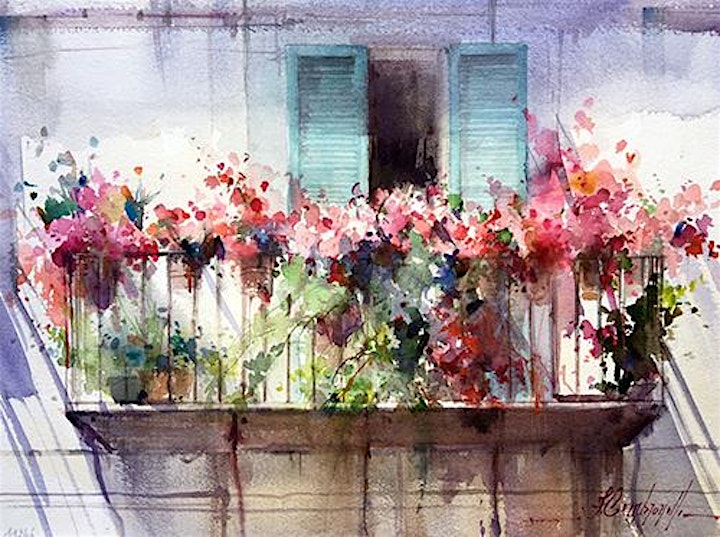 Registration:
You can secure your spot by purchasing this workshop online or by signing up via email or telephone at director@ellisartstudios.ca | 250.300.4668 or in-person at Ellis Art Studios.
Refund & Cancellation Policy:
A supply list will be provided. You may withdraw 8 weeks prior to the workshop start date and receive a full refund. No refunds will be allowed after this date.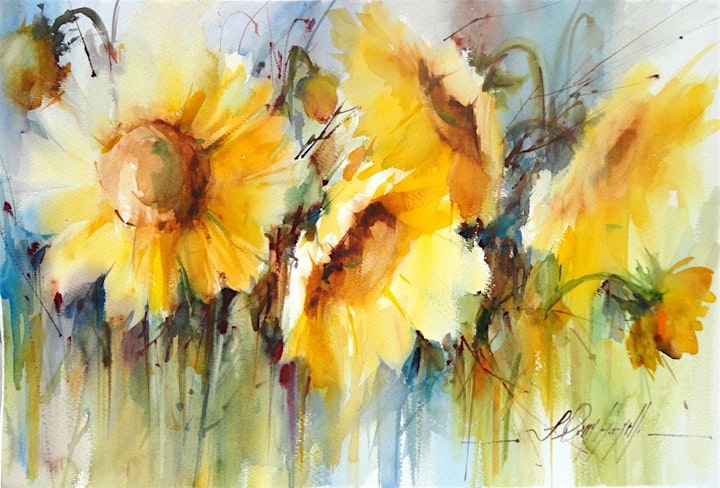 About the Artist:
Fabio Cembranelli, a renowned Brazilian artist, started painting at university, where he studied architecture. After graduating, he took drawing, sculpture and photography courses in his home town of São Paolo, and continued his studies in Europe and US during the 90s. He still lives and works in São Paulo. His paintings feature in exhibitions and collections worldwide,
Fabio currently works in two artistic fields: watercolours and acrylics, and his unique and luminous floral watercolours are known internationally.
Explaining why he has chosen transparent watercolour as his favorite medium, he says, "What compels me to paint with this approach is the possibility of painting quickly. It suits my personality best -- the fluidity of the medium provides a unique sensation of unexpected colour mixing, particularly when I define only the main masses and allow the unpredictable to happen on the rest of the paper. Timing is quite important in my method. I lean intuitively toward realism, but the right speed forces me to create diffused effects and shapes. I love painting flowers and landscapes in watercolour and I'm always enchanted by the attempt to capture the contrast between loose and definitive edges, as well as light and shadow effects."
Fabio teaches painting techniques in his studio, in art galleries, as well as workshops and painting holidays throughout Brazil and abroad. Nowadays his work is focused on plein air painting, observing and studying nature firsthand at inspiring outdoor locations.
In the upcoming years he will be tutoring several workshops in Europe, Asia and North America. He is also a regular contributor to various painting magazines and also works as illustrator for some publishing in South America.
www.FabioCembranelli.com