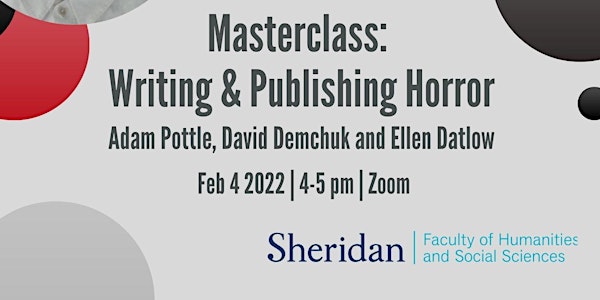 Masterclass: Writing & Publishing Horror
Sheridan College is hosting a virtual Masterclass for Writing and Publishing Horror on February 4th from 4-5PM EST.
About this event
Please join the Creative Writing & Publishing program for a Masterclass panel on writing and publishing horror fiction. 2021-2022 Writer-in-Residence Dr. Adam Pottle will lead a discussion with acclaimed author David Demchuk and celebrated editor Ellen Datlow on style, craft, and the stakes of horror in 2022.
David Demchuk's debut novel The Bone Mother won the 2018 Sunburst Award for adult fiction, and was nominated for the Scotiabank Giller Prize and the Shirley Jackson Award, among others. His new book RED X, an unusual combination of horror and memoir, was published in August of last year and was listed as one of the year's top 100 books by New York Public Library and CBC Books, and one of the year's top 20 books by Rakuten Kobo.
Ellen Datlow acquires short fiction and novellas for Tor.com and Nightfire. Her most recent anthologies are Echoes: The Saga Anthology of Ghost Stories, Edited By, Final Cuts: New Tales of Hollywood Horror and other Spectacles, and Body Shocks. She's won the Karl Edward Wagner award, and Life Achievement Awards from the Horror Writers Association and the World Fantasy Convention.
Adam Pottle is the CW&P Writer-in-Residence for 2021-2022. His books include the award-winning novel Mantis Dreams, the novella The Bus, the poetry collection Beautiful Mutants, and the memoir Voice. His plays Ultrasound and The Black Drum broke new ground for accessible storytelling in Canadian theatre. He is currently revising his new novel, and his children's book Butterfly on the Wind will be released in 2023.