Description
Using Your Relationships to Grow
Customer advocates, resellers, and partners can help you grow, but developing and retaining these growth channels can be complex and time-consuming. Most companies fail to provide their partners with the tools that they need to succeed, or fail to distinguish the unique needs of each partner type. In this session, Sean Harris and Luke Swanek of GrowSumo will break down how to launch, manage and expand relationship-based growth channels in a highly automated and scalable way.
You'll learn how to:
Distinguish partner types with unique values, needs, and their relevance to your company at different stages;

Work successfully with partners;

Launch and develop growth channels through relationships;

Scale growth in a predictable, ROI-positive way.
---
Agenda:
10:00 – 10:10 a.m. — P2P introductions, Nathan Monk
10:10 – 11:45 a.m. — Using Your Relationships to Grow, with Sean Harris and Luke Swanek
11:45 a.m. – 12:00 p.m. — Q&A session
12:00 – 12:10 p.m. — Break
12:10 – 1:00 p.m. — P2P facilitated group exercise and networking
About MaRS Mastering Growth P2P
Mastering Growth P2P is a monthly P2P series designed for MaRS high-growth ventures and corporate partners who are utilizing the latest marketing technology, tactics, and trends to scale. Our Mastering Growth P2P sessions bring together visionary founders and growth thought leaders to educate and transform the way we go to market and scale. Growth is the new metric for success and we want you to be prepared to deliver it.
---
Guest Speaker: Luke Swanek, Co-founder, GrowSumo (LinkedIn: click here)

Guest Speaker: Sean Harris, Sales Engineer, GrowSumo (LinkedIn: click here)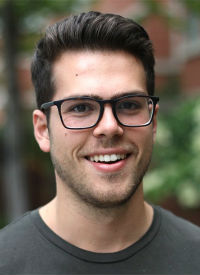 Host:

Nathan Monk
Nathan is a senior growth expert, mentor and entrepreneur who is passionate about closing the growth marketing skill gap in Canada. He brings nearly 15 years of experience in sales, marketing and brand building, having worked directly with over 1,000 early-stage and high-growth, later-stage ventures. He was one of the original members of the 'lean' movement in Canada, the founding director of Techstars Next, created the Startup Bookclub, and brought Eric Reis' Lean Startup Day to Canada. Nathan is trained in Osterwalder's Business Model Generation, by Osterwalder himself, and Steve Blank's startup growth methodologies.
Most recently, Nathan initiated the first GrowCamp in Canada for MaRS; a six-day growth programming camp that included high-growth ventures, corporate partners, plus collaboration with Google Canada. It was the first of its kind in the country and lead to the creation of the Growth Marketing Playbook, now available to entrepreneurs.
Nathan holds an HBA from the Richard Ivey School of Business.