Description
STARTING AT 6:00PM FOR SMART HOME CHOICE MEMBERS ONLY, WE WILL BE HAVING A PRE-MEETING CLOSED DOOR SESSION.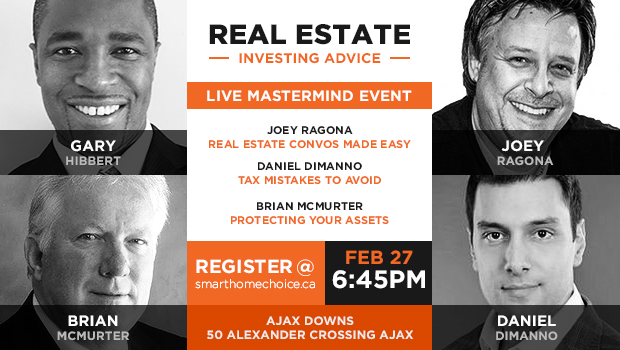 We're back and we're definitely well rested. We've made some BIG changes this year in regards to our events (Masterminds, Social and Networking) and how we wanted to grow the business. It's always a bit of a balancing act when moving from the comfort zone of always doing things the same. We feel positive about the revisions and looking forward to what 2019 has in store for us and our family.
On Wednesday February 27th @ 6:45pm we've decided to bring out 3 great guests.
Business Coach - Joey Ragona will be teaching us how to have easy conversations with ANYONE about Real Estate - Even if They Don't Understand it.
Real Estate Accountant - Daniel DiManno will be sharing some strategies and secrets the CRA doesn't want you to know.
Real Estate Lawyer Brian McMurter has some of the HOTTEST lawyer tips that you need to know going into 2019.
This is a BIG event. Grab your tickets before they're gone.
Joey Ragona's Bio
Joey Ragona is the CEO of JDR Investments, a professional real estate investment company, founder of Engaged Investor.com and the creator Real Estate Joint Venture Presentation Formula.
A full-time investor since 2007 and joint venture specialist and he is an in-demand high performance coach helping real estate entrepreneurs get "unstuck" to build a business that returns personal freedom without sacrificing their lives.
His lifetime business knowledge, experience and marketing expertise has already helped hundreds of entrepreneurs find clarity and define new systems and strategies to create a stable business that no longer controls their lives giving them the true freedom they've always wanted.
As for the coaches and mentors I've trained with (some are still to this day) Greg Habstritt, John Assaraf, Brendon Burchard and Eben Pagan.
Brian McMurter's Bio
Brian C. McMurter is a Whitby-based lawyer, specializing in Real Estate and Wills & Estates and also providing Notary services, having come to law following an extremely successful career in the banking industry. With firm roots in the Durham Region in Ontario, Brian's client base extends from Scarborough through to Clarington, and all the cities in between (Pickering/Ajax, Whitby, Oshawa, Bowmanville, and Newcastle).
Brian's policy of "No Surprises" has made him a popular choice among residents and real estate professionals alike. He actively supports his community as a member of the Chamber of Commerce, participates in the Durham Networking Association, and is a frequent speaker in the community on topics relating to real estate and wills.
Daniel DiManno's Bio
Daniel DiManno holds a wealth of experience and knowledge developed through years of working in the business and financial market place. His experience includes positions held with one of Canada's largest public accounting firms, where he worked with both large publicly traded companies and small to medium sized privately held businesses. He has experience both as a public and private accountant, working as an auditor and business advisor as well as holding accounting roles within the private sector.
Daniel also has experience as an investment advisor, focusing on wealth management under the guidance and mentorship of senior investment advisors from one of Canada's top ranked investment banks.
Specialties: Business Consulting, Tax Compliance, Financial Statement Preparation, Review and Audit engagement services for Manufacturing, Distribution, Real estate, property management, retail, logistics and financial services businesses.
RESERVE YOUR SEATS NOW!! $30 CASH - PAY AT THE DOOR!
Agenda
6:00pm - Smart Home Choice Members Only Pre-Meeting
6:45pm - Doors open
6:45 - 7:10pm - Mix and Mingle
7:10 – 7:15pm – Introduction – Chris Hummell
7:15 - 7:30pm - Brian Mcmurter - Lawyer
7:30 – 8:10pm – Daniel DiManno - Accountant
8:10 – 8:20pm – Network Break - Welcome New Guests
8:20 - 9:05pm – Joey Ragona – Mindset Coach
9:05 – 9:10pm - Closing remarks – Gary Hibbert
9:10 - 10:00pm - Mix and Mingle