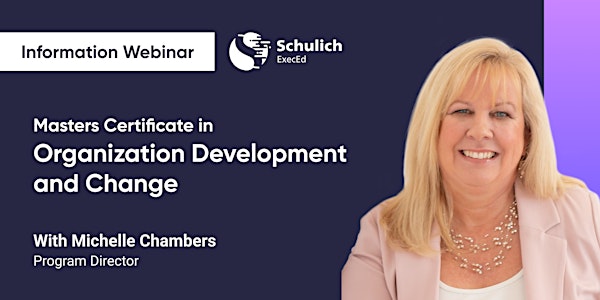 Multiple dates
Masters Certificate in Organization Development and Change
Our expert facilitators explain how this program can help professionals lead sustainable organizational change.
Date and time
Tue, Sep 17, 2019 9:00 AM - Thu, Dec 14, 2023 10:00 AM PDT
About this event
ONLINE EVENT - Register today!
(Multiple dates available, click on Select a Date above to pick one.)
The Masters Certificate in Organization Development and Change has been designed to help you be confident in your ability to assess a consulting situation in collaboration with the client, and provide the most appropriate intervention from an array of many in your repertoire.
Join Michelle Chambers, director of Schulich ExexEd's Centre of Excellence in Organization Development and Change, as she discusses how you can gain the applied knowledge and practical experience necessary to solve critical business and organization development challenges with proven behavioural science-based approaches and techniques.
Organization development is concerned with an organization's ability to build the capacity of their people and systems to adapt to business change and emerging opportunities. An effective organization development strategy helps your people achieve their goals, improve their effectiveness and achieve the best possible outcomes for clients, customers and stakeholders.
Through our applied learning format, you will gain the skills to become a world class OD planning professional.
About the organizer
We are an extension of the Schulich School of Business at York University in Toronto. Our role within the school is to provide lifelong learning for the development of professionals and executives long after their full-time education has been completed and they are in the work force.

Because few of us have the same job for life, we constantly have to re-invent ourselves, learn new skills and adapt to the changing marketplace and business environment. Today's professionals and executives must be able to quickly develop and fine-tune personal business skills to adapt and grow.