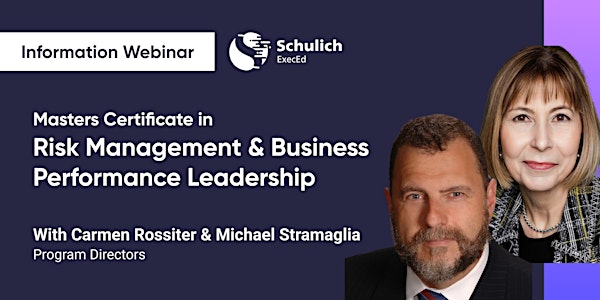 Masters Certificate in Risk Management and Business Performance Leadership
Join Program Directors Carmen Rossiter and Michael Stramaglia as they talk about Enterprise Risk Management trends for the recovery.
About this event
ONLINE EVENT - Register today! (Multiple dates available, visit our Eventbrite page for details.)
Effective risk management is an essential competency to support business performance in a changing environment. It can and does make a difference over the long term, yet few business leaders have benefited from training in this area.The Centre of Excellence in Governance, Risk Management and Control has been formed to provide a range of training to develop competencies in governance, risk management and control in a changing environment. The goal of this program is to help Canadian businesses and government excel in the global market, and better manage the risks that you will face along the way.
About the Speakers
Carmen Rossiter
Carmen Rossiter is Program Director for the Centre for Governance, Risk Management & Control at the Schulich Executive Education Centre. She leads the program supported by a faculty and guest speakers comprised of academics, professional facilitators and experienced representatives from leading organizations.
Michael Stramaglia
Michael Stramaglia, Program Director of SEEC's Centre of Excellence in Risk Management, is the president and founder of Matrisc Advisory Group Inc., a consulting firm that specializes in the provision of enterprise risk management (ERM) advisory services. He currently serves on several boards of directors and was appointed as the Global Risk Institute's first Executive in Residence in January 2014, where he supports the development of leading-edge ERM research and education programs. He has more than 30 years of professional and leadership experience.