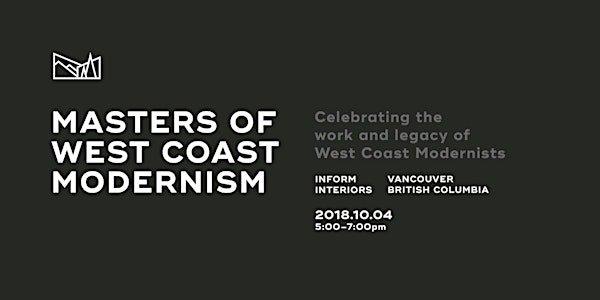 MASTERS OF WEST COAST MODERNISM
By West Coast Modern League
Date and time
Thu, Oct 4, 2018 5:00 PM - 7:00 PM PDT
Location
Inform Interiors 50 Water Street Vancouver, BC V6B 1A4 Canada
Refund Policy
Contact the organizer to request a refund.
Description
Celebration and Reception
Registration Required. Free Admission. Suggested $10 donation.
5:00pm Doors Open/ Check-In
5:00–6:00pm Reception + Slideshow
6:00–6:30pm Remarks + Moderated Discussion
[with Catherine Alkenbrack and the West Coast Modern Masters]
6:30–7:00pm Reception + Slideshow


Please join us and other members of the Vancouver design community to celebrate the work and legacy of outstanding West Coast Modern Masters.
On October 4th, the West Coast Modern League celebrates the creative contributions of Bruno Freschi, Don Vaughan, Paul Merrick, Peter Cardew, Richard Henriquez, and their pivotal roles in the shaping and evolution of the west coast design ethos. The second instalment of the Masters of West Coast Modernism, this series aims to reflect on the creative contributions to our built environment of West Coast Modern Masters, and to offer insight into influences of personal and continued significance to their careers, design philosophies, and creative processes.
Resting on the ideals that architecture is rooted in its place by form and materiality, responsive to its climate and other natural forces, and enriched by the integration of artistic influences, West Coast Modernism is a design movement that has shaped, and continues to inform, the architectural identity and lifestyle of Canada's west coast. This unique, regional and vernacular approach to modernism is widely recognized and attributed to built works throughout Greater Vancouver and the southern coastal areas of British Columbia, beginning with the 1941 B.C. Binning House–a National Historic Site of Canada. Forming part of this rich design history, our five special guests have had an indelible impact on our built environment, each offering unique values and artistic inspiration in their architectural practice.
Joined by the West Coast Modern Masters, this celebration will feature a presentation of architectural works, mementos, artefacts, and artistic works of personal and continued significance to their careers and/ or design processes, as well as, a panel discussion with the tributes moderated by Catherine Alkenbrack.


The West Coast Modern League gratefully acknowledges the generous support of Inform Interiors.
For comments or inquiries:
Please email wcmleague@gmail.com

For more information:
www.westcoastmodern.org
Join our Mailing List:
CLICK HERE to subscribe to the WCML Newsletter
Follow and tag us with your photos:
Facebook: West Coast Modern
Instagram: @wcm_league
Twitter: @wcm_league
#westcoastmodern #westcoastmodernism #westcoastmodernstories #wcmleague #wcmlevents #westcoastmodernleague
About the organizer
Based in Vancouver BC, the West Coast Modern League is an independent, volunteer-based, non-profit society that works to advance understanding and appreciation of significant architecture of the North American west coast, with a special focus on Greater Vancouver.
Find us online at westcoastmodern.org
Follow and engage with us on Instagram / Facebook / Twitter with the hashtags #westcoastmodernleague #wcmlvan
For inquiries, email at wcmleague@gmail.com.