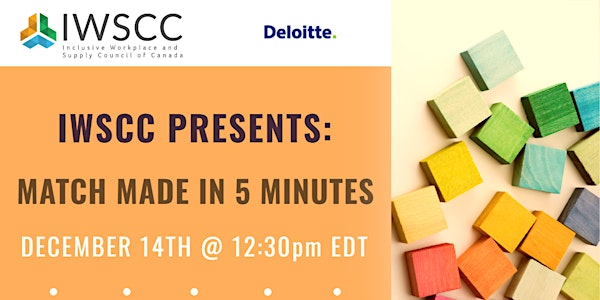 Match Made in Five Minutes! Deloitte and IWSCC
Introducing Inclusive Workplace and Supply Council of Canada's (IWSCC) 2022 series of networking meetings called Match Made in Five Minutes!
Refund Policy
Contact the organizer to request a refund.
Eventbrite's fee is nonrefundable.
About this event
Join us on December 14th, 2022 @ 12:30pm EST, and present directly to The Deloitte Procurement Team.
If you've ever wanted to be [digitally] face-to-face with the purchaser of a large Canadian corporation or government, read on.
What is Match Made in Five Minutes? How Does it Work?
This program is a series of Zoom networking meetings spanning from March to December 2022, where individuals will get the chance to pitch their business directly to a purchaser from one of IWSCC's Corporate Members.
At this roundtable-like event, 15 participants will spend 5 minutes each, speaking with a Corporate Member representative. This is your chance to ask questions, learn about how to do business with them, and demonstrate why your offerings would add value to the Corporate's supply chain. It's essentially a longer version of an elevator pitch, but with an audience.
If you are too late to register as one of the 15 suppliers, you can still join to listen and learn in the secondary room! This is a great opportunity to learn more about working with these companies and how to reach them following the event.
How Does this Benefit Me?
If there is one thing that we hear from many business owners, it's that getting in touch with the right people at large organizations is a significant challenge. Taking that into account, the IWSCC has partnered with several of our Corporate Members who are looking to do business with Diverse Suppliers.
This matchmaking event is a great opportunity to get your foot in the door with these Corporate Members:
• October 26th - BGIS
• November 16th - Canada Post
• November 30th - Sun Life
• December 14th - Deloitte
Corporate Members will be discussing their specific needs, what they're looking for in a supplier, and what requirements are needed before starting a new contract. They will also help connect you internally wherever possible. With these details shared so openly, this a great first step to doing business with these organizations! Those in the secondary room will get the chance to be a fly on the wall to these in-depth conversations.
In addition to the 'main' Zoom meeting room, we will be hosting a larger 'secondary' room where individuals will be able to listen in on the conversations in the main room.
Before the Zoom meeting, the IWSCC team will send out the order of presentations to the main room participants. The meeting will start out with an introduction of the Corporate Member, and each pitch will be stopped at 5 minutes, where the moderator will give the floor to the next participant. Further questions can be asked at the end if enough time remains.
Fees
Join us for our December 14th Event with Deloitte.
Main Room
Non- IWSCC Certified Suppliers: $40
IWSCC Certified Suppliers: Free (please obtain discount code from IWSCC)
Secondary Room
Non- IWSCC Certified Suppliers: $20
IWSCC Certified Suppliers: Free (please obtain discount code from IWSCC)
Maximum Participation**
15 participants in the main room
70 participants in the secondary room
*Dates are subject to change upon 2 weeks' notice.
**Registration is based on a first come, first serve basis.
*** ASL & CC will be provided during the session. Please let us know if we can assist with anything else.
Our Preparation Suggestions to Suppliers
These Corporate Members are ready to onboard new suppliers. We suggest those participating in the main room prepare before the meeting. Here are a few suggestions:
Do research by visiting their website, reading recent news articles, and connecting with other business owners that have already done business with that Corporate,
Determine which of your top three offerings best suit that Corporate's needs, and,
Practice, drill, and rehearse!
If you are a Veteran who owns a business or a disabled business owner and are not yet certified as a Diverse Supplier we would love to talk to you! Please email Deidreg@IWSCC.ca to chat with us and/or check our website at www.IWSCC.ca