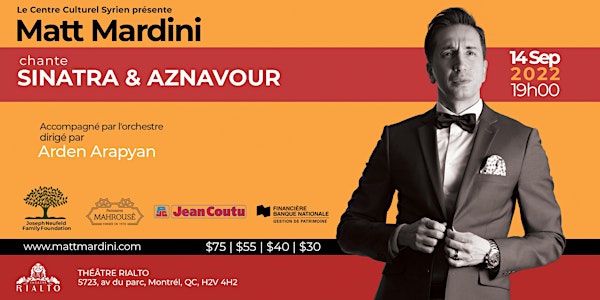 Matt Mardini sings Sinatra & Aznavour
Imagine Sinatra and Aznavour sharing the stage, performing their greatest hits. Matt will bring audiences to living that impossible fantasy.
When and where
Location
Théâtre Rialto 5723 Avenue du Parc Montréal, QC H2V 4H2 Canada
About this event
English text follows
Matt Mardini chante Sinatra et Aznavour au Rialto
Imaginez. Frank Sinatra et Charles Aznavour se partagent la scène, interprétant leurs plus grands succès. Le 14 septembre 2022, le crooner montréalais Matt Mardini amènera son public le plus près possible de vivre ce fantasme impossible au Théâtre Rialto.
Aussi surprenant que cela puisse paraître, aucun crooner n'a jamais rendu un tel hommage aux deux géants de la musique américaine et française dans un même spectacle live, en français et en anglais. La motivation de Mardini pour ce faire va au-delà de l'évidence. « Je vénère Sinatra et Aznavour. Leurs chansons sont les pierres angulaires de mon répertoire, mais j'ai une raison plus personnelle de rassembler leur musique dans un show », a expliqué Mardini. « Aznavour et Sinatra étaient tous deux des enfants d'immigrants, respectivement arméniens et italiens. Pour un artiste immigrant comme moi, il n'y a pas de plus grande inspiration. C'est un honneur de garder leur mémoire et leurs chansons vivantes. »
Mardini est originaire de Syrie. Avant de s'installer à Montréal, il a perfectionné son art dans de petites et grandes salles, des émissions de télévision et des événements privés au Moyen-Orient, en Europe, aux États-Unis et au Canada. Son répertoire comprend certaines des plus belles chansons de tous les temps. Sur scène, il alterne aisément entre les paroles en anglais, français, espagnol, italien, arménien et arabe.
Matt Mardini chante Sinatra et Aznavour sera son deuxième concert au Rialto en collaboration avec le centre culturel syrien de Montréal. Soutenu par un groupe de quinze musiciens et des choristes, le spectacle présentera les arrangements de Mardini de ses tubes préférés de Sinatra et Aznavour. « Il sera impossible de ne pas chanter", a promis Mardini. « Que vous soyez un meilleur chanteur en français ou en anglais, peu importe. C'est un spectacle où les souvenirs de chacun s'éveilleront et tout le monde y trouvera de la joie. »
Matt Mardini est sans contredit un homme amoureux de son pays d'adoption et de Montréal. En 2019, il sort son album HIBA : Un hommage aux icônes Canadiennes, disponible sur toutes les plateformes en ligne. Il enchaîne en 2021 avec Live au Rialto, une collection de neuf chansons enregistrées dans cette prestigieuse salle. En 2022, il sort Unplugged, à la mémoire du regretté Rob Heaney, l'un des ingénieurs de son les plus recherchés et les plus adulés de Montréal.
Les portes ouvrent à 19h00 - Le concert commence à 20h00
Cet événement est parrainé par :
Financière Banque Nationale -Groupe Lalonde-Doyon - Gestion de patrimoine - Bassam Touchan
Aboud Georges - pharmacien propriétaire affilié à Jean Coutu
Joseph Neufeld Family Foundation
--------------------------------------------------
Matt Mardini Sings Sinatra and Aznavour at Rialto
Imagine. Frank Sinatra and Charles Aznavour sharing the stage, performing their greatest hits. On September 14, 2022, Montreal crooner, Matt Mardini, will bring audiences as close as possible to living that impossible fantasy at the Rialto Theatre.
As surprising as it may sound, no crooner has ever performed such a tribute to the two giants of American and French music in a single live show, in French and English. Mardini's motivation for doing so goes beyond the obvious. "I worship Sinatra and Aznavour. Their songs are the cornerstones of my repertoire, but there's a more personal reason for bringing their music together," explained Mardini. "Aznavour and Sinatra were both children of immigrants, Armenian and Italian respectively. For an immigrant artist like myself, there is no bigger inspiration. It is an honor to keep their memory and songs alive."
Mardini hails from Syria. Before making Montreal his home, he honed his craft in small and large venues, TV shows, and private events in the Middle East, Europe, the US, and Canada. His repertoire includes some of the most beautiful songs of all-time. On stage, he switches seamlessly between English, French, Spanish, Italian, Armenian, and Arabic lyrics.
Matt Mardini Sings Sinatra and Aznavour will be his second concert at the Rialto in collaboration with the Syrian Cultural Center in Montreal. Supported by a fifteen-piece band and backup singers, the spectacle will showcase Mardini's own arrangements of his favourite Sinatra and Aznavour hits. "It will be impossible not to sing along," promised Mardini. "Whether you're a better singer in French or English, it doesn't matter. This is a show where everyone's memories will come alive and everyone will find joy."
Matt Mardini is without a doubt a man in love with his adoptive country and Montreal. In 2019, he released his album HIBA: A Tribute to the Canadian Icons, available on all online platforms. He followed it up in 2021 with Live at Rialto, a collection of nine songs recorded at the prestigious venue. In 2022, he released Unplugged, in memory of the late Rob Heaney, one of Montreal most sought-after and beloved music recording engineers.
Doors open at 7:00 PM - Concert starts at 8:00 PM
This event is sponsored by:
National Bank Financial - Groupe Lalonde-Doyon - Wealth Management - Bassam Touchan
Aboud Georges - pharmacien propriétaire affilié à Jean Coutu
Joseph Neufeld Family Foundation
-------------------------------------------------------------------
FAQ
Quelles sont mes options de transport / stationnement pour aller à l'événement?
Stationnement dans la rue disponible autour du théâtre Rialto sur l'avenue du Parc. et rue Bernard.
Comment puis-je contacter l'organisateur pour toute question?
info@centreculturelsyrien.org
info@mattmardini.com
Dois-je apporter mon billet imprimé à l'événement?
le billet électronique est ok
Mes frais d'inscription ou mon billet sont-ils transférables?
Non. 
Est-ce que ça va si le nom sur mon billet ou mon inscription ne correspond pas à la personne qui assiste?
Oui, pas de problème
Quelle est la politique de remboursement?
Aucun remboursement
Que se passe-t-il si le concert est annulé en raison de restrictions Covid ?
Si une directive sanitaire empêche l'événement d'avoir lieu le 14 septembre, le concert sera reporté à une nouvelle date, et les billets seront valables pour cette nouvelle date.
-------------------------------------------------------------------
FAQs
What are my transportation/parking options for getting to and from the event?
Street parking available around theatre Rialto on Du Parc Ave. and Rue Bernard.15 min walking from Outremont Metro Station.
How can I contact the organizer with any questions?
info@centreculturelsyrien.org
info@mattmardini.com
Do I have to bring my printed ticket to the event?
e-ticket is ok
Is my registration fee or ticket transferrable?
No.
Is it ok if the name on my ticket or registration doesn't match the person who attends?
Yes, no problem
What's the refund policy?
No refund
What if the concert is canceled because of Covid restrictions?
If a health directive prevents the event from taking place on the 14th of September, the concert will be postponed to a new date, and the tickets will be valid for the new date.