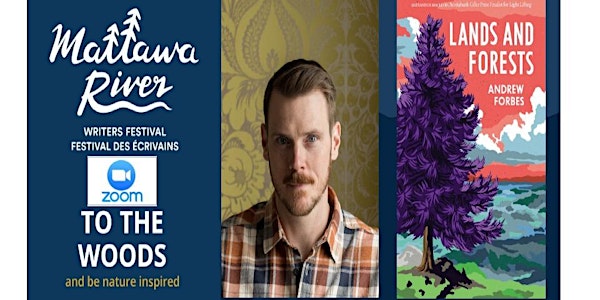 MattawaRiverWritersFestival EARTH DAY with Andrew Forbes
Join Andrew Forbes outside via Zoom as he shares the inspiration behind his short stories in Lands and Forests.
About this event
"This is a breath taking collection—in that it is literally hard to breathe while you read these stories, such is their power, insight, and ability to expertly mine the secret vein of sorrow that runs below every ordinary, extraordinary life. Forbes' stories manage to be gritty and elegant at the same time, rendered with Munro-esque mastery and restraint." - Grace O'Connell author of Be Ready for the Lightning and Magnified World
We will begin at 2:30 pm EST with a behind the scenes with Andrew and finish with Q an A by 3:30 pm.
Register for individual event below. We recommend downloading the Zoom app or visiting Zoom prior to your first event.
The Canadian Ecology Centre/Centre Écologique du Canada is home of the Mattawa River Writers Festival/Festival des Écrivains.
We are at the confluence of two historic rivers, in the rocky landscape of Ontario's Near North within the Samuel de Champlain Provincial Park.
Our 5th annual festival beside the mighty Mattawa River is not possible due to COVID-19 therefore we adapt like the environment we live in. What hasn't changed is the goal of the Book Talk and that is to raise funds for the Canadian Ecology Centre's Education Foundation for kids to attend outdoor education camps (in the future).
https://www.canadianecology.ca/donate/
We are paying our writers and workshop facilitator but we are offering this to a virtual audience for free. In return please consider donating to getting kids outdoors at CEC again!
The Mattawa River is associated with indigenous history, the exploration of Canada and the fur trade. We recognize the enduring presence of Indigenous peoples connected to and on this land. We are grateful for the opportunity to work within the Robinson-Huron Treaty territory. The land on which we gather is the traditional territory of the Anishnaabeg People and, specifically, the Nipissing First Nation. We commit ourselves to the work of reconciliation with Indigenous Peoples.
We are ...creating connections with our natural world through the arts, créer des liens avec notre monde naturel à travers les arts, ji-kendaagwag gda-kiimnaan aabjichgaadeg mzinbiigewin.