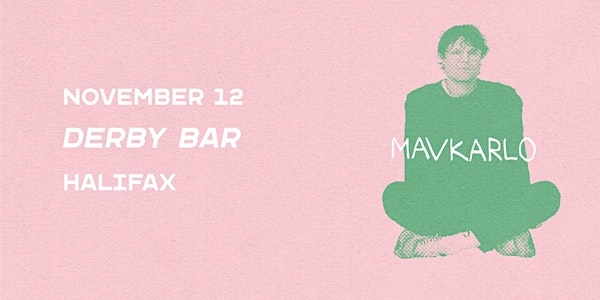 Mav Karlo (Hollerado) Live @ The Derby Showbar
The "I Drove Here and Slept in My Car and Only Peed on the Side of the Road and Quarantined for Two Weeks" Tour
When and where
Location
Derby Show Bar 2037 Gottingen Street Halifax, NS B3K 3B1 Canada
Refund Policy
Contact the organizer to request a refund.
Eventbrite's fee is nonrefundable.
About this event
Mav Karlo - The I Drove Here and Slept in My Car and Only Peed on the Side of the Road and Quarantined for Two Weeks, Oh and the Shows Are All Socially Distanced Tour
On his debut EP Reno Tapes, Toronto-based artist Mav Karlo shared a batch of songs self- recorded in a shabby casino hotel room last Christmas, each track channeling the dreamlike squalor of those surroundings. With his first full-length effort, the singer/songwriter otherwise known as Menno Versteeg offers up a much more elaborately realized yet no less intensely intimate body of work. But while Strangers Like Us closely documents an especially tough period in Versteeg's life, the album ultimately arrives at an undeniable courage in its commitment to truth-telling and unsparing self-examination.
"The goal with the album was to take a good hard look at myself and my behavior and really get to the heart of the matter," says Versteeg. "What I kept coming back to was the idea that what makes you human is your flaws. So many of us walk around hiding our flaws all the time, but when you see someone's flaws and accept them, that's when you really know each other."
Produced by Chris Coady (Amen Dunes, Beach House, Future Islands) and recorded at two iconic studios (Sunset Sound in L.A. and Sonic Ranch in the Texas border town of Tornillo), Strangers Like Us marks a departure from the carefree indie-rock of Versteeg's now-defunct band Hollerado. With its gracefully sparse arrangements, the album centers on Versteeg's lyrical storytelling, revealing a narrative voice deeply attuned to the beauty in the ordinary and routinely overlooked. Despite that stripped-back approach, Strangers Like Us draws incredibly rich texture from Versteeg's delicate melodies and warm vocal work, and from the spirited performances of guest musicians like Katy Goodman of Vivian Girls (on vocals), Charlie Spencer of Dizzy (keys, drums), and Versteeg's Hollerado bandmate Nixon Boyd (guitar, bass).
An album elegantly steeped in memory, Strangers Like Us navigates the often-painful act of looking back with grit and clarity and unbridled imagination. On lead single "Dig a Hole," for instance, Versteeg unearths a bit of family history involving the beloved Toronto landmark Honest Ed's, a fantastically gaudy discount store recently torn down for the construction of condos. "When my dad was a teenager he lost his mom and went through a rough patch where it seemed like he was headed for jail, or worse," says Versteeg. "During that time he got caught stealing at Honest Ed's, but Honest Ed just gave him a stern talking-to and let him go. I've always wondered how his life might've taken a turn if it hadn't worked out that way—if I'd even be here now if he'd ended up going to jail." With its breezy rhythms and lilting harmonies, "Dig a Hole" casts that speculation in a mostly bright light, an element brilliantly amplified by Versteeg's slipshod romanticism (sample lyric: "Meet me tonight by that pile of dirt/We'll hold hands and we'll count shooting stars/And the past, it won't matter/And the truth, it won't hurt").
Versteeg displays his lyrical ingenuity all throughout Strangers Like Us, handling everything from idiosyncratic detail ("In the afternoon I'd wake up with Beethoven hair," from "Detonator") to poignant confession ("I wish I was brave like a wirewalker," from "Wirewalker") to wickedly sharp humor ("You dress like you listen to whatever's on the radio," from "Strangers"). Naming Tom Petty and John Prine among his inspirations, Versteeg first began creating as Mav Karlo in the midst of last year's constant upheaval, equally driven by an urge to expand his horizons as a songwriter and a need for the raw catharsis of unfettered expression. After sketching songs for the project, Versteeg boarded a bus from San Francisco to Reno three days before Christmas, then spent over a week holed up in a $40-a-night hotel room with a 4-track recorder and a nylon string guitar. "I wanted to go to the saddest place I could think of," he explains. "Once I got there,
I just sat and wrote and recorded, and saw the sort of fucked-up things you'd expect to see at the holidays in a casino in Reno—I saw two Santas beating the shit out of each other, and a single dad at a slot machine with his kids, telling them gambling secrets." With his moniker chosen partly in homage to one of the two friends he lost to suicide this past year, Versteeg released Reno Tapes in March 2020, subtly introducing the world to the charmed and scrappy sincerity of Mav Karlo.
Reflecting on the making of Strangers Like Us, Versteeg points to a particular affinity for the album's penultimate song "Nurses and Priests": a disarmingly stark track that's heavy-hearted but quietly hopeful in its message of self-forgiveness. "The idea behind that song is that, however much strength you can fake for yourself, everybody's got their moments of self-doubt—even the bravest people, the nurses and priests," says Versteeg. "A lot the record is about looking within and trying to find the source of your pain, trying to figure out why you behave the way you do, but by the end there's a sense of starting to trust yourself. So even though there might still be self- doubt, it's a confident kind of self-doubt—an understanding that everyone feels this way sometimes, and you've got to just keep pushing on."
Full COVID-19 Safety Regulations in place.
For Ticketing info call 902.233.1694