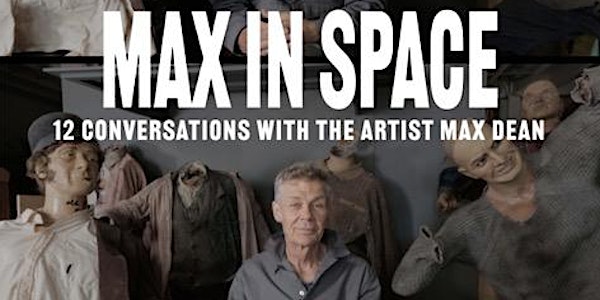 Max In Space – 12 Conversations with the Artist Max Dean - Virtual Premiere
We are pleased to host the virtual premiere of Max In Space – 12 Conversations with the Artist Max Dean.
About this event
This is the first feature documentary film by artist Pierre Tremblay. Cinematography by Joseph Devitt Tremblay and Ken Robinson.
This Virtual Screening and Q&A sessions will take place via Vimeo and Zoom, respectively. A link to the film on Vimeo and the Zoom Q&A will be sent in your confirmation email once you have registered for the event. Each link will have a password attached, which are required to gain access. Please watch the film between 12pm-3pm, and log into the zoom meeting at 3pm for the live Q&A session. The film has a 57min run-time.
Max Dean is a preeminent Canadian artist whose multidisciplinary work has startled, engaged and intrigued for decades. This documentary in the form of 12 conversations in 12 spaces over the course of one year follows Dean from studio to exhibition spaces and even into Lake Ontario to capture a year in the life of an artist who is constantly creating using new forms. Under the shadow of a long-term battle against cancer, he reflects eloquently on a lifetime of creative industry, ranging from the renowned robotic chair to photography and installations. Selected curators offer additional insights on the oeuvre of this peripatetic creator.
The documentary has been created by Pierre Tremblay, an artist and professor at Ryerson University, where Dean also teaches. As Dean ruminates on process and demonstrates the discipline inherent to his life as an artist, he offers a kind of Master class for students - while also reminding all of us what it means to create. His works, cerebral yet often playful, have an accessibility that inspires and touches both connoisseurs and the general public as seen in numerous moments during the film. Max in Space is a portrait of a man who has lived authentically and with dedication. It is a tribute to a Governor General's Award winning artist who has sometimes been overlooked in the Canadian arts landscape.