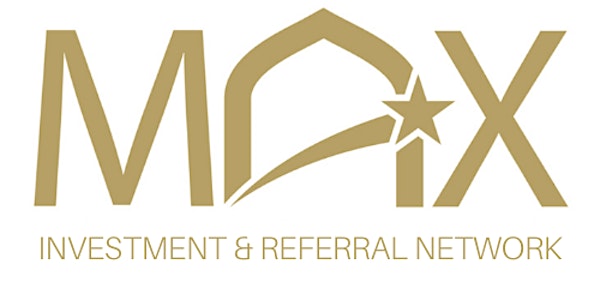 MAX Investment & Referral Network | 2022 Membership | Continue The Journey!
MAX Investment & Referral Network 2022 | Sign Up NOW | Our Journey, Our Network, A Community Coming Together
About this event
Time for us to continue on our special journey. We had a highly successful first year at MIRN (MAX Investment & Referral Network) and received an overwhelming high level of positive support for this new MAX initiative.   Now it's time for our Second Year.
Register now to be part of this Exclusive network that we envision growing larger and into something really special over the next several years.
You are likely to grow your network, meet amazingly successful individuals and be exposed to a whole diverse set of new investment opportunities. In 2021, we had over 50 members sign up, who invested over $1.2 Million in 9 companies. Others signed on to sit on the Board of Directors and / or serve as Advisors of some of the presenting companies.
Registration Open: Immediately for 2022 Calendar Year
Meetings Remaining in 2022: Weekday evenings from 9 pm to 11 pm
October 4
December 15
Current name:   MIRN (MAX Investment & Referral Network). 
Structure of Each Meeting: 
1.  60 to 75 Minutes:  3 to 4 investment opportunities presented to the group.
2.  30 to 45 minutes (or as long as needed):  Online Zoom Breakout rooms divided by each presenting company. Will serve as an opportunity to ask more detailed questions and network.  Each participant will be allowed to go from room to room on Zoom as they deem appropriate based on their interest
3. For certain sessions, we will start an hour earlier with an optional Investors Only networking and / or educational session from successful entrepreneurs who have made significant exits.
*** Please note ALL investment decisions you ultimately make are your own and based on your own diligence and your risk tolerance level.  We are not vouching for the investments presented, but only serving as a platform to help everyone network, ask questions, get advice from each other, and have access to each other's network of investment opportunities.
Frequency of Meetings:  Meet 6 times during a year.  Every two months (6 meetings) with 2 potential special bonus meetings during the year.  You may send ONE person in your place if you are unable to attend.  Everyone will be issued a password for the meetings.  There will be a Waiting Room before admittance to the Zoom meeting, where the MAX team will verify that attendees are registered.
How To Register To Be a Part of MIRN (MAX Investment & Referral Network) : 
A. Please register here on EventBrite.
B. Minimum Donation of $500 to MSF (MAX Scholarship Fund) for 2022 Membership.   Please feel free to donate recommended $1,000 or more. Tax deductible receipt will be issued for all donations, so your effective cost is much less after your tax credit when you file your return. ***
***Yes, for those who indicated they wanted to donate more, we welcome donations in higher amounts and thank-you for supporting our Scholarships Program for the Muslim Youth.
***Please provide Mailing Address here on EventBrite registration for Donation Receipt purposes as MSF is a CRA registered charity.
***Three Options on How To Make The Donation:
1. Here on EventBrite OR
2. Send E-transfer to "finance@maxscholars.org"  with mailing address in notes OR
3. For immediate issuance of tax receipt, please complete donation online at https://www.canadahelps.org/en/charities/max-scholarship-fund/   
Where it says "Send a message to this charity (optional)", please write "For 2022 MIRN membership" and then proceed.
Survey Results (After surveying the MAX Network):
Type of Investments Looking For: Tech Startups, Real Estate. Healthcare businesses, Private small businesses, followed by public investments and  mid to large private businesses.
Desired Amounts Per Individual Investment:  Almost 67% (two-thirds) were looking to invest at least $25,000 per investment. 33% were open to $50,000 + per investment.
Do you believe you can bring forward and present an investment opportunity from your network at least once or twice in a year?  Nearly 50% said yes. It's not a requirement.
MIRN Annual Membership Has Its Privileges:
1) Each member will be allowed to present investment opportunities to the group.  Sign up to present prior to the meetings.  These will be moderated to ensure fair access to each to present.
2) Each member will be allowed to present up to 3 Referral presentations in a calendar year.
3) Each member will be invited as a complimentary guest to the MAX Ambassador's Evening.
4) We will create a private What's App group where people may send investment opportunities to members of this group.  A subset of these (or all if feasible) may be presented during one of the 6 to 8 MIRN meetings during the year.
5) Six to eight meetings a year.
6) Opportunity to network for investments and referrals among each other and leverage each other's networks.
7) Invitations to special educational seminars on investing put on by professionals in this network.
8) Meet fascinating, successful and intellectually curious people in this group and build your network. Have amazing discussions! Open your mind to a whole new world of experiences. Whether you invest, serve as an Advisor or on the Board of Directors, or just meet new people, this MIRN network has proven to be a boon to exciting opportunities.
9) Feel good about supporting MAX youth by donating to MAX Scholarships Fund (MSF)
THANK YOU FOR CONTINUING ON THIS JOURNEY WITH US TO BUILD SOMETHING SPECIAL !