Celebrating MAX Scholarship Fund's 5th year with wonderful key note speakers and some of Canada's most well rounded Muslim Youth.
About this Event
About this event:
November 7, 2020 | 12 PM EST
This event will well welcome two industry leaders as our key note speakers, Dr. Tayyab Rashid and Dr. Vajid Khan as well as recognize the students who were awarded scholarships for 2020. Join us and learn from our speakers and celebrate our students. During this event we will highlight all of the incredible scholarship recipients and you will get the chance to hear from a select few.
Key Note Speakers:
Dr. Tayyab Rashid
Dr. Tayyab Rashid is a licensed clinical psychologist and an Associate Faculty at the University of Toronto Scarborough (UTSC). For more than 15 years, Dr. Rashid has worked with individuals experiencing complex mental health issues of young adults. Dr. Rashid has also worked with individuals experiencing severe trauma, including with 9/11 families, with refugee families and journalists who have worked in high conflict zones and with survivors of mass shootings. His work has been published in academic journals, included in textbooks of psychiatry and psychotherapy and has been featured in the media. His book Positive Psychotherapy (2018), is considered one of the most comprehensive clinical resources in the field and has been translated into ten languages so far. Dr. Rashid won the Outstanding Practitioner Award (2017) from the International Positive Psychology Association (IPPA) and Chancellor Award (2018) from the University of Toronto.
Research Initiatives: Strengths-Based Resilience, Flourish, Positive Psychotherapy, Campus Mental Health
Dr. Vajid Khan
Dr. Vajid Khan is the current chairman of Cars & Chai Toronto, a private club for Muslims with a "Passion for the automobile and philanthropy." He is a diagnostic and non-vascular interventional radiologist at Bluewater Health and Adjunct Professor at Western University. He grew up in Ottawa, has trained in every major city in Ontario and now resides in Oakville. This has allowed him the pleasure of meeting many talented and diverse Muslims over the years. He is very passionate about disease prevention through diet and lifestyle, building and giving back to the Muslim community and engaging in mentorship and life coaching with our youth
Dr. Vajid Khan will be accompanied by the winner of his scholarship - the Dr. Jawad and Husna Khan Medical Scholarship, on a fireside chat.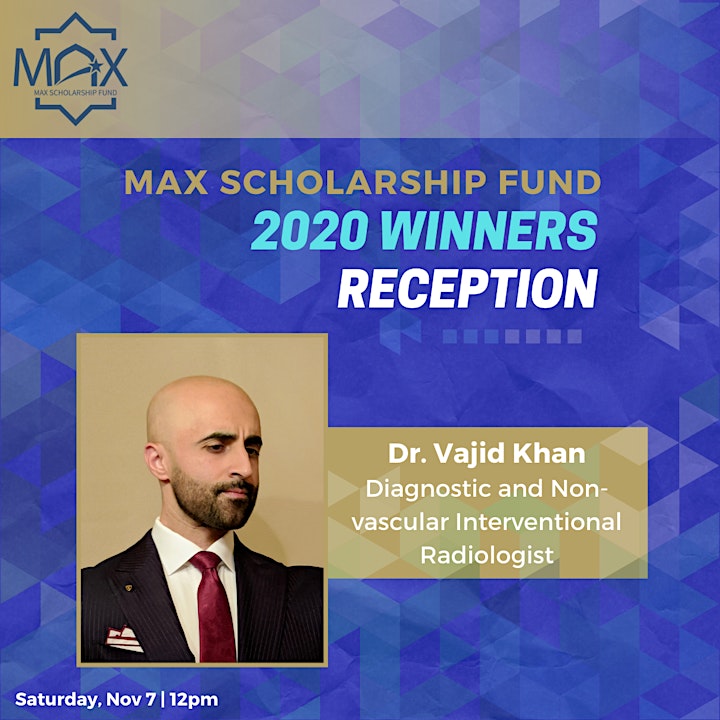 About MSF:
MAX Scholarship Fund (MSF) awards well-rounded High school and University students who are eager to make an impact, learn and create. They are students who have contributed to their communities and Canada at large, achieved above-average marks and are recognized by their peers, Muslim and non-Muslim alike.