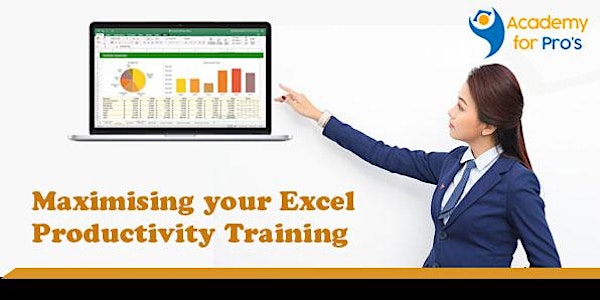 Maximising your Excel Productivity Training in London City
Our classroom training provides you the opportunity to interact with instructors and benefit from face-to-face instruction.
When and where
Location
For venue details reach us at info@mangates.com PH: +1 469 666 9332 London City, ON N6A 5B5 Canada
Refund Policy
Refunds up to 7 days before event
About this event
Certificate: None Language: English
Duration: 1 Day Credits: 8
Course Delivery: Classroom/ Virtual Live/ On-Site
Course Overview:
Hidden shortcuts and techniques that save time and improve productivity.
Just some of the things you'll learn:
Mouse productivity techniques
Keyboard productivity techniques
Control key productivity shortcuts
Shift key productivity shortcuts
Alt key productivity shortcuts
Range name enhancements
Chart tips and tricks
Custom lists that save you time
Clever conditional formatting
Find / Replace tips
Grouping to improve readability
Comments to improve usability
How to improve your toolbars … and much more!
Target Audience:
All Excel users. Especially those people interested in the best techniques for manipulating and handling data.
Learning Objectives:
Learn the hidden productivity tools that are used by Excel Experts to get more done at the same time.
Make your charts fly: creating new charts, improving existing ones, and making them all look superb!
Clever range name techniques that improve reliability and readability.
Best practices in formulas and formatting that help improve both speed and accuracy.
Ways to quickly navigate large spreadsheets and find what you need to know.
Ways to speed up data entry.
There's also a question and answer time so you can get answers to all those questions that have been bugging you! … plus many many more ways to improve your productivity and reduce your frustration!
Prerequisites:
All Excel users. Especially those people interested in the best techniques for manipulating and handling data.
Course Materials:
Students will receive a course manual with presentation slides and reference materials.
Examination:
There is no exam for this course.
Technical Requirements:
For eBooks:
Internet for downloading the eBook
Laptop, tablet, Smartphone, eReader (No Kindle)
Adobe DRM supported software (e.g. Digital Editions, Bluefire Reader)
eBook download and activation instructions
Agenda:
Useful techniques and keyboard shortcuts
Navigating large sets of data
Control key
Shift key
Alt key
Mouse buttons
Custom Lists & Auto-Correct
Creation
Techniques for improving efficiency
Paste-Special
Often overlooked functionality
Finding & Replacing with a twist
Highlighting additional functionality that most people aren't aware of
Data Validation
Using validation lists to control inputs
Creating dynamic range names
Printing
Tips to assist setting up printing
Repeating headings, printing comments
Protecting your Work
Restricting user input and user access to your sheets and files.
Grouping
How to include both summary and detail information on one sheet plus demonstrate benefits of avoiding hiding rows.
Charting
Best practices for designing and working with charts
Tables and Databases
Sorting techniques
Using Autofilter to show top 10 or custom views of the database
Flagging and removing duplicate entries
Pivot Tables
Create your own dashboard using pivot tables and pivot charts
Value and Date grouping functionality
Top 10 filters
Traps to avoid
Present your summarised data in an easy to interpret manner
Useful Excel functionality in the most recent versions
Related Courses
High-Powered Excel for Finance (1 day)
Excel Data Analysis in Finance (1 day)
Note:
However, catering to the demands of busy professionals, our virtual training programs are as effective as face-to-face learning. Reach us at info@academyforpros.com for dates and details of Instructor Led Live Virtual Session.
If you would like to get this course customized and delivered exclusively for your group, we have an On-Site Training Option you can reach us at info@academyforpros.com for more details about on-site or corporate training.