Maximize the Positive Forward Motion of YOUR life!
Event Information
Refund Policy
Contact the organizer to request a refund.
Eventbrite's fee is nonrefundable.
Self Awareness & Self Management through COVID - Understanding our emotions and triggers, & how to positively manage them in the FAST Lane©
About this Event
Understanding & Managing the Emotional Energy of your life in the FAST Lane©
As the leader of your life, and, formally or informally, a leader in the lives of those around you (family, friends, work), your actions and behaviours hold the key to your personal and interpersonal happiness.
This has never been as critical as it is now.
Through this workshop, you will understand how something as seemingly innocuous as 'energy' can fundamentally define how others view you, where your triggers and blind spots are, how emotionally effective you are, and gain tools to help you manage and cultivate more of a positive perspective.
Utilizing the E-Leadership Index (ELI), you will self-assess and evaluate where your catabolic and anabolic (*positive and *negative) energy is (level 1-7), explore what triggers your emotions and energy, and create concrete POSITIVE FORWARD MOTION development goals to increase your Emotional Energy Management and Emotional Intelligence (EI).
Workshop Goal
With a foundation of Emotional self-awareness, self-management, and focus on the Energy of Leadership Index, in this workshop we will dig in to learn the Energy Leadership Index framework in order to support ourselves and each other to understand and manage their emotional energy and behaviour.
In this workshop participants will achieve an understanding of how emotions shape who we are, how we relate to others. How to improve personal, interpersonal, and work relationships through emotional self-management and self-awareness.
Participants will leave with tools necessary to identify and uncover their triggers, where their unconscious energy lays, what the EL Index is, and most impactfully, how to use this framework and model to positively influence your Energy as a professional.
Workshop Outcomes
By the end of this workshop, participants will:
Enhance their anabolic (positive) Energy by increasing their capacity to understand, manage and regulate emotions and behaviours under stress
Understand the Energy Leadership Index Assessment Framework, and how to leverage it.
Explore the role of mindfulness in managing and de-escalating highly charged emotions and situations
Understand how emotions, triggers, and behaviours (blind spots) impact our happiness, influence, and ability to collaborate and communicate
Explore individual energy index levels and indicators under normal conditions and in the *FAST lane© (*Frustrations, Assumptions, Stressors, Triggers)
Enhance self-awareness and emotional self-management in the context of COVID-19 and the changing landscape of remote work, expectations, and servicing clients and teams
Understand the consequences of your conscious and unconscious emotional energy on your life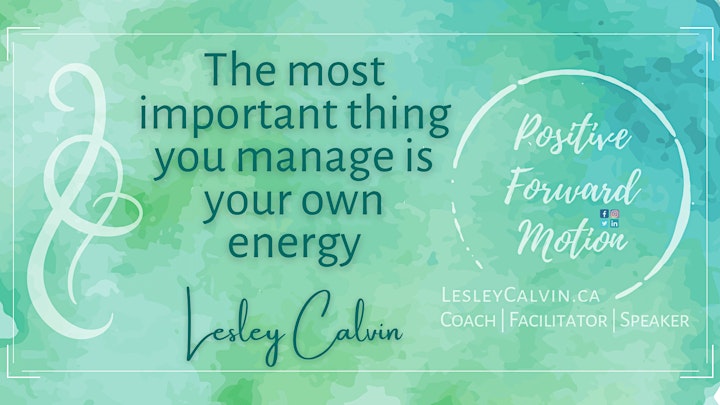 Date and Time
Location
Refund Policy
Contact the organizer to request a refund.
Eventbrite's fee is nonrefundable.