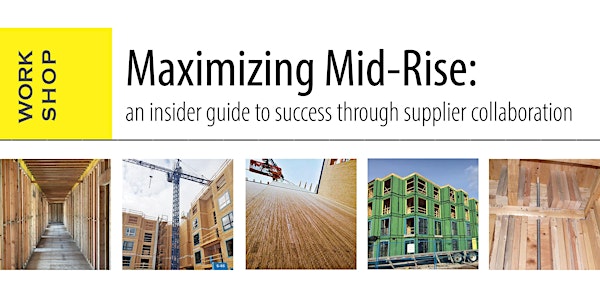 Maximizing Mid-Rise - Ottawa
Free, half-day technical workshop offering industry insight into achieving optimized wood mid-rise projects through supplier collaboration.
When and where
Location
Best Western Plus Ottawa Kanata Hotel & Conference Centre 1876 Robertson Road Ottawa, ON K2H 5B8 Canada
About this event
As wood buildings get larger and increasingly complex, it is imperative to have a high-functioning team from the outset. Integrated design and project delivery is the approach you need to optimize your design, minimize risk, and achieve maximum results on your next midrise project. Take advantage of the industry experts whose experience and product knowledge can inform your project from the outset on all aspects of the build including program, use of engineered wood products, connectors, lateral design, constructability, cost efficiencies, fire protection, vibration and acoustic control, and code requirements.
This workshop was created for design and building professionals including architects, engineers, owners, builders, and developers with an interest in wood construction for midrise developments.
DETAILED PROGRAM
08:00 - 08:30 Breakfast & Registration
08:30 - 09:15
The Mid-Rise Wood Building Guide by Steven Street, Executive Director, Wood WORKS! Ontario
Published by the Canadian Wood Council and Wood WORKS!, the Guide explores in detail the opportunities and possibilities that exist by utilizing the Canadian code requirements across the country. The guide is relevant to all design and building professionals including architects, engineers, and other members of the design and development community. This session takes you inside the projects and building technologies that inform this resource, showcasing the potential for mid-rise wood construction.
09:15 - 10:00
Engineered Wood in Mid-Rise Structures: Managing Performance, Simplifying Installation, and Controlling Costs by Andy Teasell, P.Eng., Senior Engineer - Trus Joist Product Support, and Steve McManus, P.Eng., Senior Engineer - Trus Joist Product Support
Early involvement by all parties of the construction team is crucial to provide the necessary products and services for every mid-rise construction project. The benefits of involving product manufacturers, product suppliers, product designers, and fire safety experts right from the beginning are significant:
Maximize and economize the EWP structural design
Proper EWP product selection for performance expectations
Resolution of fire safety and sound design challenges
Resolution of shear wall design challenges
Simplification of structural and architectural details
Meet the structural requirements and performance expectations of the design team
Streamline installation and construction through on-site coordination with all parties
10:00 - 10:15 Break
10:15 - 11:00
Anchoring Shearwalls with Strong-Rod Systems (SRS) or Traditional Holdowns – What is Best for Your Building? by Brent Bunting, P.Eng., Senior Branch Engineer Simpson Strong-Tie, Ltd.
The design of shearwalls to resist lateral loads on mid-rise buildings can provide challenges to both the engineer and the contractor. Selection of a shearwall anchorage solution that is both cost-effective and easy to install is sometimes overlooked, but choosing the right system for your building is not always easy. This session will compare the use of Strong-Rod Systems (SRS) to that of traditional shearwall holdowns using design procedures, construction details, and testing videos. The goal is to provide participants with the ability to decide what type of system is best for their building.
11:00 - 11:30 Interactive Q&A