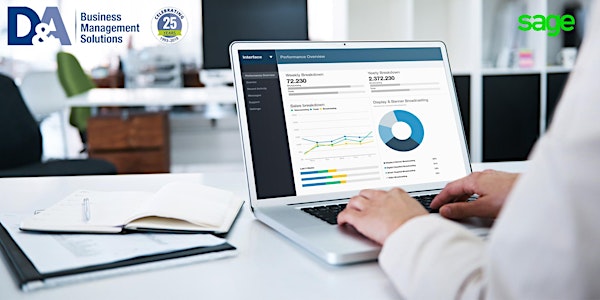 Maximizing your investment with Sage / Maximisez votre investissement avec Sage (Ottawa)
When and where
Location
11 Aviation Pkwy Ottawa, ON K1K 2X5 Canada
Description
As a long-time or prospective client, you are invited to join us at our 5th annual Sage Learning event to be held in Ottawa.
En tant que client de longue date ou client potentiel, vous êtes invités à vous joindre à nous pour notre 5e événement annuel d'apprentissage Sage qui se tiendra à Ottawa.
The event will be held on October 23rd, 2019 at the Canada Aviation and Space Museum, where Canada's Aviation history is on display / Cet événement aura lieu le 23 octobre 2019 au Musée de l'aviation et de l'espace du Canada, ou l'on peut trouver l'histoire de l'aviation au Canada.
Details:
You will be able to choose 4 sessions from any of the following learning tracks: / Vous aurez la possibilité de choisir 4 sessions parmi les parcours suivants:
Sage 300c - Accounting & Business Management Solutions / Sage 300c - Comptabilité et gestion d'affaires
Sage Cloud Solutions/Solutions nuagiques de Sage
Productivity Solutions for Sage 300c / Solutions productives pour Sage 300c
Light breakfast & lunch will be served / Un déjeuner léger et un lunch seront servis.
Prizes will be drawn at event wrap-up / Des prix seront tirés à la fin de l'événement.
You are welcome to include multiple people from your organization that could benefit from these different tracks / Nous vous invitons à inclure plusieurs personnes de votre organisation qui pourraient bénéficier de ces différents parcours.
Join us for this unique opportunity to see the latest Sage developments and talk to representatives of D&A and Sage / Soyez des notres pour cette occasion unique de voir les derniers développements Sage et de parler aux représentants de D&A et Sage.

____________________________________________________________________________________
Presentations will be primarily in English but bilingual staff will be on hand at both events.
Agenda
8:00 - 8:30 - Breakfast & Networking

8:30 - 10:00 - Welcome Keynote & Introductions - Sage Canadian Market Product Overview and brief introduction of all the presenters and sessions.
10:10 to 11:00 - Session #1
Accounting & Business Management solutions - What's New in Sage 300/CRM?
Presented by: Renee LiMura, Partner Sales Engineer - Sage 300 & Sage CRM and Shane Parfitt, Sage 300 Canadian Product Marketing Manager
Cloud Solutions - Increasing Efficiency with Integrated Payment Processing
Presented by: Devon Lildhar, VP Sales for APS Payments
Productivity Solutions - Connecting Sage to other Islands of data
Presented by: Robert Lavery of RL & Associates and Peter Leroux of D&A
11:10 - 12:00 - Session #2
Accounting & Business Management solutions - Business Intelligence Reporting options
Presented by: Olivia Brown, Regional Account Manager for Sage Enterprise Intelligence
Cloud Solutions - Tools for Mobile Sales & Wireless Fulfillment
Presented by: Robert Lavery of RL & Associates
Productivity Solutions - Eliminate Spreadsheet frustration in budgeting and forecasting
Presented by: George Braun, President at True Sky
12:00 - 1:20 - Lunch
1:30 - 2:20 - Session #3
Accounting & Business Management solutions - Solving your HR Challenges
Presented by: Jim McCormack, Business Development Manager for Sage HRMS
Cloud Solutions - Cloud-based Approval for your Business Workflows
Presented by: Robert Lavery of RL & Associates
Productivity Solutions - Going Paperless with Smart Forms
Presented by: Igor Kras, Sales Director at Altec
2:30 - 3:20 - Session #4
Accounting & Business Management solutions - Business Continuity: What to do when Sage goes down? Presented by: Michel Saumure and Peter Leroux of D&A
Cloud Solutions - Automating your Accounts Payable
Presented by: Ray Scarborough, Channel Development Manager at Beanworks
Productivity Solutions - Integrated & Cloud-based EDI with End-to-End Fulfillment
Presented by: Daniel Scott, Director of Marketing at Edisoft
3:30 - 4:00 - Wrap-up & Prize Draw
4:05 - 5:00 - Tour of the Canada Aviation & Space Museum exhibits (Ottawa)