Don't miss this springtime double feature! Hike a ridge AND visit a wetland to listen to western toad mating calls in the Ghost Watershed
About this event
The Ghost Watershed Alliance Society invites you to join us for an interesting pair of springtime activities!
First, we'll take an evening hike up Lesueur Ridge and enjoy a packed dinner with views of the Ghost River and front ranges of the Rocky Mountains. Then we'll take you to visit a nearby breeding spot of the western toad where we'll listen for the characteristic mating calls of the males that typically start after sunset at this time of year.
Here's the details:
When: 5:30 pm to 11:00 pm (approx.) on Sunday, May 15, 2022
Where: Meeting location will be at the TransAlta Kiosk - 5:30 pm for hike or 9:20 pm for just the toad listening portion
https://goo.gl/maps/koGeWvgACedQnftw6
About the hike:
The Lesueur Ridge hike is a moderate hike that will lead us up the ridge behind Lesueur Creek. The trail is mostly easy to walk. There are some steep sections with loose gravel (walking poles recommended if you have/need them). The trail offers beautiful views of the Ghost River valley and the Rockies. Bring your camera!
Elevation gain/loss: 275m total
Distance: approx. 6km
Duration of the hike is about 3.5 hours with driving and a break to enjoy the view. We will be back at the meeting location at 9:20pm. From there, you can decide whether to join us to listen to the toads.
What to bring:
sturdy footwear suited for potentially slippery and muddy sections of trail
layers of clothing for the cool evening
bear spray, if you have one
packed dinner to eat along the ridge
headlamps or flashlights to spot the toads or egg strings (if we're lucky)
reflective vests or clothing for safety at night
The event is free of charge. Donations are gratefully accepted to support GWAS's Education & Outreach program.
Please note that this walk will take place on ungroomed, backcountry trails. You need to be reasonably fit to take part in the walk. Participation in this event is at your own risk. By registering for the event you accept the terms listed below.
See you there!
FAQs
What are my transportation/parking options for getting to and from the event?
There is parking at the trailhead to Lesueur Ridge. Please note that from the meeting point we will drive up a rough gravel road with potholes for 2.7 km to the trailhead. The road is level and can be driven with a 2WD vehicle, but a vehicle with good clearance is recommended. There may be an option to carpool from the meeting location at the entrance of the gravel road.
COVID-19:
Please do not attend the event if you (1) have symptoms of COVID-19, (2) been diagnosed with COVID-19, (3) are waiting for a COVID-19 test result,(4) have returned from international travel less than 14 days prior to the event, or (5) have been exposed to someone who has tested positive with COVID-19 less than 14 days prior to the event.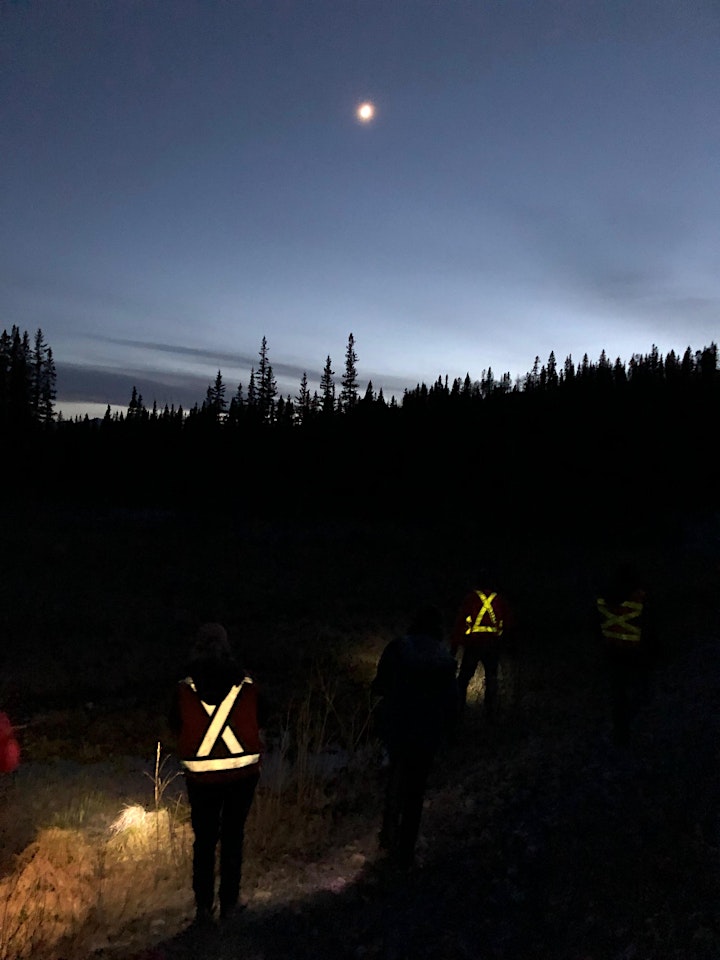 Terms:
By registering for this hike organized by Ghost Watershed Alliance Society, you, for yourself, your heirs, executors, administrators, successors and assigns, hereby release, waive and forever discharge Ghost Watershed Alliance Society and all its respective subsidiaries, agents, officials, servants, contractors, representatives, elected and appointed officials, successors and assigns of and from all claims, demands, damages, cost, expenses, actions, causes of action, whether in law or equity, in respect of death, injury, loss or damage to your person, or property howsoever caused, arising or to arise by reason of my participation in the said event, whether as participant or otherwise, whether prior to, during or subsequent to the event and notwithstanding that same may have been contributed to or occasioned by the negligence of any of the aforesaid.
You further hereby undertake to hold and save harmless and agree to indemnify all of the aforesaid from and against all liability incurred by any or all of them arising as a result of, or in any way connected with, your participation in the said event.
You acknowledge that hiking in the backcountry involves inherent risks, including, but in no way limited to, risks associated with weather, natural occurrences, risks from third parties operating in the area, and risks associated with wildlife, that may cause serious injury and possibly death to participants.