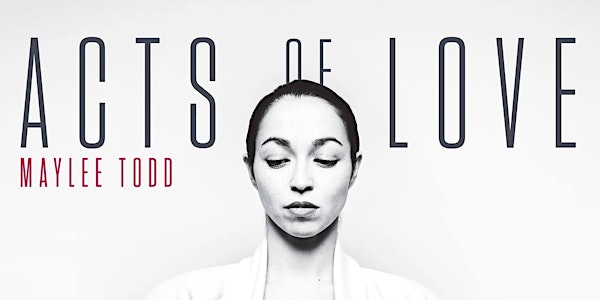 Maylee Todd's record release party ACTS OF LOVE via VIRTUAL WOMB
When and where
Location
The Great Hall 1087 Queen Street West Toronto, ON M6J 1H3 Canada
Description
Maylee Todd's 3rd record release party for ACTS OF LOVE out on Do Right Music!
Official release Nov 3rd and you can pre-order the album here:
http://smarturl.it/actsoflove
It's been about 4 yrs since her last record Escapology in 2013. Todd brings you ACTS OF LOVE a self-produced conceptual record that touches on subjects such as gender bias, the politics of consciouness, pscilisbin experiences, polyamory, forgiveness, addiction to substances and/or compulsions to talk about certain topics and unconditional love. The record is a psychonautic experience diving inward.
Come join the Todd Squad celebrate her third record in an unconventioal way via Virtual Womb!
Virtual Womb is a multimedia experience that includes projections, dancing, installation, 3-D projection mapping and live music. Please bring your own blanket walk through a large vulva installation, snuggle up to the floor and watch projections on the ceiling that coincide with the live musical performance.
Buy Tickets Here: $15
Door: $20

Doors: 7pm
Start Time: 8pm Early Show
Virtual Womb is a place of gestation, meditation, rebirth, and deprogramming. A psilicibin experience.
Where birth and death are one of the same. A place with no past and no fear of the future.
Any type of identification that may set you apart from another being; age, race, gender, education, nationality and status has no value here. We are all on neutral ground.
Once you exit the womb you can choose to be reborn a new being, shed old programming or choose whatever you feel you needed for the next chapter in your life.
Here is a video of the first show:
https://www.youtube.com/watch?v=RvwddnKiakM
www.mayleetodd.com