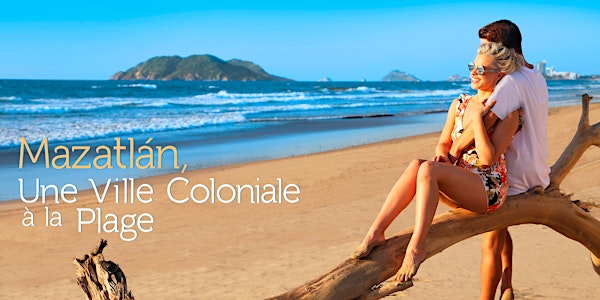 Mazatlán , salon professionnel et souper-présentation à Québec
When and where
Location
Auberge Saint-Antoine 8 Rue Saint-Antoine Quebec, QC G1K4C9 Canada
Description
Joignez-vous à l'Office de Tourisme de Mazatlan lors de nos prochain événement à Québec pour commémorer le lancement d'un nouveau service direct vers Mazatlán, la seule ville coloniale du Mexique sur la plage.
Découvrez Mazatlán et sa récente renaissance, l'amélioration de sa connectivité aérienne, ses hôtels et ses plus grands attraits. Vous vivrez une soirée remplie de plaisir, avec des activités interactives, des occasions d'apprentissage et une tonne de prix à gagner.
---
* Présentation en anglais / Presentation in English
---
Come and join us in our upcoming event in Quebec City to celebrate the launch of new direct service to Mazatlan: Mexico's only Colonial City on the Beach.
Discover Mazatlan's recent renaissance, enhanced air connectivity, resorts, and attractions.
Expect a fun evening with interactive activities, learning opportunities, and lots of prizes!
Invité spécial / Special Guest

Horaire / Schedule:
De 17h à 20 h : salon professionnel à Explore Hall & souper-présentation à Cabarete Champlain
17:00 hrs - 20:00 hrs Trade Show at Explore Hall & Presentation Dinner at Cabarete Champlain
---
Cet événement est réservé aux agents de voyages professionnels. Une pièce d'identité et une invitation peuvent être requises.
Launch of new direct service to Mazatlán, Mexico's only Colonial City on the Beach. This event is for professional travel agents only. ID and invitation may be required.
---
FAQ
Stationnement / Parking
Le stationnement sur place est réservé aux clients de l'hôtel. Des places de stationnement public (rue et parc) sont disponibles. Parc de stationnement recommandé : le nouveau parc de stationnement SPAQ à plusieurs étages, situé en face du Musée de Civilisation (18 $ pour la journée, payable uniquement par carte de crédit)
On-site parking only for hotel guests. Public parking options available. Recommended lot: New SPAQ parking Located in front of «Musée de la Civilisation » Multi-floor parking (Payable only by credit card 18$ for the day)
Allergies et restrictions alimentaires / Food restrictions and allergies
Veuillez nous faire part de toute allergie ou restriction alimentaire en ajoutant une note à la réservation de votre billet. Vous pouvez aussi envoyer un courriel à notre coordinatrice Veronica Rivas à vrivas@inter-active.ca. Nous ferons de notre mieux pour vous accommoder.
Please notify us of any dietary restrictions or allergies by adding a note when booking your ticket. You can also email the event coordinator: Veronica Rivas ar vrivas@inter-active.ca. We will do our best to accommodate your requests.
Annulations / Cancellations
Nous comprenons qu'un imprévu pourrait vous empêcher d'être présent. Si c'est le cas, veuillez libérer vos billets en annulant votre commande. Trouvez votre courriel de confirmation et suivez les instructions. Sinon, envoyez un courriel à vrivas@inter-active.ca. Nous prévoyons beaucoup de participants, donc veuillez libérer vos billets si nous n'êtes plus en mesure d'être présent à l'événement, afin de laisser la place à un autre agent.
We understand something unexpected may happen you may need to cancel your attendance. Please release your tickets by cancelling your order. Find your original confirmation email and follow the instructions or email vrivas@inter-active.ca. We expect a lot of interest so kindly release your tickets if you are unable to attend so another agent can join us.