McCormick Dementia Services Caregiver Education Series August-October 2017
Description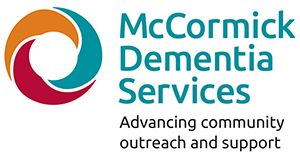 The Caregiver Education Series is an eight-week series of evening group sessions that enhances caregiver expertise through professional presentations, practical demonstrations and group learning. It is offered four times per year.
Upcoming Sessions
February 7 to March 28, 2017
April 11 to May 30, 2017
August 15 to October 3, 2017
October 10 to November 28, 2017
Topics
Putting a Face on Dementia
What do the Medical Experts say?
Communication – Our Most Important Human Link
All Behaviors Have a Meaning – What are Their Causes and How Do We Deal With Them?
How Important is Self-Care for the Caregiver?
More Tools for the Toolbox
Transitions in Dementia Care
Where Do We Go From Here?
These free sessions are open to all non-professional caregivers of those with dementia and are held on Tuesday evenings from 7:00 to 9:00 p.m. at McCormick Dementia Services.