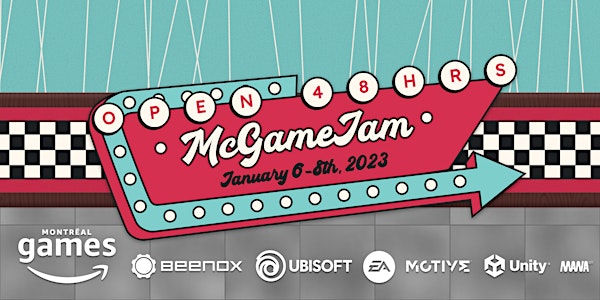 McGameJam 2023
Come MAKE GAMES and enjoy ALL INCLUDED FOOD FOR AN ENTIRE WEEKEND with us at McGill! Exclusive Swag + Tech Talks + Our Amazing Sponsors!
When and where
Location
Trottier Building 3630 Rue University Montreal, QC H3A 0C6 Canada
Refund Policy
Contact the organizer to request a refund.
Eventbrite's fee is nonrefundable.
About this event
English
Please note we cannot guarantee ethernet connection or a separate sleeping area. We apologize for any inconveniences this may cause.
McGame Jam is back and better than ever -- for our 9th consecutive year!
Organized by GameDev McGill, McGame Jam is a 48-hour game development marathon in which participants are tasked with creating a playable game following a given theme. The primary goal is to collaborate with friends and to create games, no matter the skill level.
Join us at this year's special Jam for a great weekend of learning, teamwork, game development and, of course, fun!
One (1) McGame Jam 2023 ticket will give you access to:
An exclusive McGameJam 2023 t-shirt + More Swag!!!
6 meals (from Friday supper to Sunday lunch) + snacks & coffee provided throughout the weekend
48hr access to our sweet venue
Please bring your ticket on the day of the event to facilitate check-in. Refunds are approved at the discretion of the organizing committee.
McGameJam is a collaborative effort between multiple student societies, and as such we are primarily focusing on students. Please use your educational email address during sign up. However, if you are not a student and are interested in participating, we may have some spots open for you!
Please note that we will verify Student IDs during badge and t-shirt pickup for student registration.
If the spots are filled up, you can be put on our waiting list and we'll notify you if any free up!
Questions
How big can my team be?
Please make sure your team is of at most 8 members! Teams of bigger sizes will be asked to split up.
What if I'm alone?
Don't worry! We'll have a brainstorm and team building session before we start jamming so if you're alone you have a chance to mingle with other groups! Additionally, we will set up a Discord server to facilitate team building prior to the event.
What do I bring?
Bring whatever you need to make a game, whether that is a computer, a drawing tablet, pens, papers, paint, the list goes on. If you can make a game with it, bring it along!
Most importantly, please bring your ticket to the event to facilitate badge and t-shirt pickup.
Will there be food?
Included in the price of your tickets are the following meals: Friday supper, Saturday breakfast, lunch and supper, Sunday breakfast and lunch. Additionally, snacks will be served throughout the weekend. Furthermore, alternative meal accommodations will be provided for dietary restrictions.
Where do I submit my game for judging?
We will be using itch.io for the submission progress. Detailed instructions will be given at the event.
If you have any more questions, send us a message on Facebook or at mcgamejam@mcgilleus.ca.
Français
SVP notez que nous ne pourrons pas fournir de connexion Ethernet et d'espace de couchage séparés. Nous nous excusons pour tout inconvenance que cela peut causer.
McGame Jam est de retour et cette année, nous célébrons notre 9ème année consécutive!
Organisé par Game Dev McGill, McGame Jam est un marathon de développement de jeu vidéo durant lequel les participants ont 48 heures pour créer un jeu suivant un thème. Quel que soit votre niveau d'expérience, c'est l'occasion idéale de créer des jeux et de collaborer avec vos (nouveaux) amis.
Venez exprimer votre créativité durant cette fin de semaine d'apprentissage, de travail d'équipe, de développement de jeux et, évidemment, de plaisir!
Un (1) billet de McGame Jam 2023 vous donnera accès à:
Un t-shirt exclusif de McGame Jam 2023
6 repas (du souper vendredi au déjeuner dimanche) ainsi que des collations et du café tout au long de la fin de semaine
Accès au bâtiment pour les 48 heures
Veuillez s'il vous plaît amener votre carte étudiante (pour qu'on vérifie si vous êtes un(e) étudiant(e)) et votre billet le jour de l'événement pour faciliter votre enregistrement. Les remboursements seront approuvés à la discrétion de notre comité.
Si les places sont pleines, vous pouvez être inscrit sur notre liste d'attente et nous vous informerons si des places se libèrent !
QUESTIONS
Si je suis seul(e), je fais quoi?
Pas de problème! Que vous soyez seul(e) ou en équipe, nous aurons une période de brainstorming durant laquelle vous aurez l'occasion de vous joindre à une équipe. En outre, un serveur Discord sera ouvert pour faciliter la création d'équipes.
Quoi amener?
Que ça soit un ordinateur portable, une tablette graphique, des crayons, papier, ciseaux, etc, si vous pouvez l'utiliser pour créer un jeu, amenez-le!
S'il vous plait amenez également votre confirmation d'inscription pour faciliter l'inscription sur place.
Vous avez mentionné de la nourriture?
Inclus dans le prix des billets sont: un souper le vendredi, un dîner et un souper le samedi, ainsi qu'un dîner le dimanche. De plus, les petits-déjeuners et des collations seront servis tout au long de la fin de semaine.
Notez: Les remboursements sont approuvés à la discrétion du comité organisateur.
Est-ce que mon équipe est trop grande?
Assurez-vous de faire partie d'une équipe d'au plus huit participants! Les équipes plus grandes seront demandé de se séparer.
Où seront les soumissions?
Nous utiliserons itch.io pour le progrès des soumissions. Des instructions détaillées seront fournies à l'événement.
Si vous avez d'autres questions, envoyez-nous un message sur Facebook ou à mcgamejam@mcgilleus.ca