Location
Ron Joyce Centre | DeGroote School of Business
4350 South Service Road
Burlington, ON L7L 5R8
Canada
We invite DeGroote PhD students to tour our labs, view our cutting-edge equipment, and discuss how this facility can help your research.
About this event
McMaster Digital Transformation Research Centre (MDTRC) is a world-class research organization bringing together top researchers from the DeGroote School of Business, McMaster University, and beyond. MDTRC engages in cutting-edge multidisciplinary research aimed at better understanding how the digital revolution is impacting individuals and transforming organizations and society at large. Our objective at the MDTRC is to investigate the developing digital revolution and understand the many opportunities and challenges that it brings. Activities at the MDTRC focus on the three main areas: Research, Education and Outreach.
We'd like to invite you, DeGroote's PhD Students, to tour our labs and view our cutting-edge equipment and technology. We'd like to discuss how you can utilize this unique infrastructure for your research, whether it is for your thesis or another research project.
Light refreshments will be served.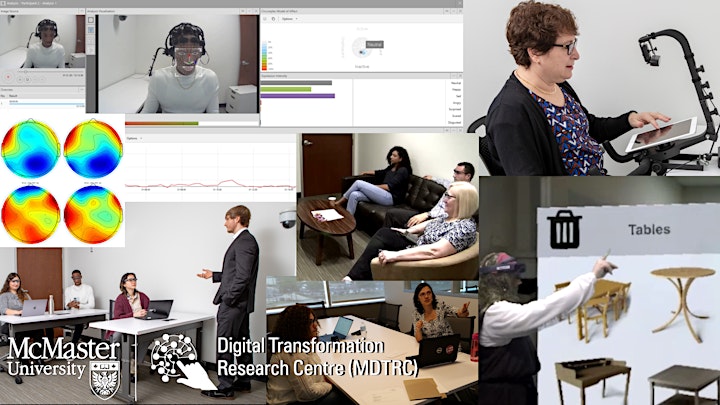 Technologies at the MDTRC:
Technologies at the MDTRC: Neuro Information Systems (NeuroIS) is an emerging research field in which theories and methods from Cognitive Neuroscience are used in Information Systems research. The MDTRC labs are equipped with state-of-the-art research infrastructure that enables the collection of rich and diverse streams of neurophysiological data (e.g., eye-tracking, pupil dilation, brain wave activity through electroencephalography, facial expression analysis, heart rate, respiration rate, skin conductance) in addition to traditional behavioural data (e.g., self-reported questionnaires, interviews, focus groups). Combining traditional and NeuroIS methods alleviates some of the shortcomings of relying solely on self-reported data that can be subject to inherent biases. Additionally, we have several technology interfaces that are available for research (e.g., PCs, laptops, tablets, phones, mixed-reality Microsoft HoloLens headset).
Labs at the MDTRC:
Whether or not you choose to utilize NeuroIS equipment and methods, you can still utilize our various labs for your research. MDTRC has three usability labs that are optimized for observing a single participant engaging with technology. Additionally, we have a meeting room that is optimized for hosting focus groups with up to nine participants. Finally, we have a unique reconfigurable lab that is designed to observe multiple participants engaging with technology in a more natural setting, whether it is a living room, a meeting room, a classroom, or other contexts.
Note: If you're interested in a tour but are unable to attend that event, please contact Shamy (elshamyn@mcmaster.ca) to discuss an alternative option.