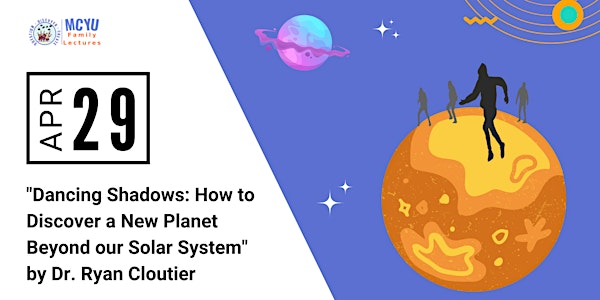 MCYU April Lecture: "Dancing Shadows"
MCYU presents: "Dancing Shadows: How to Discover a New Planet Beyond our Solar System" by Dr. Ryan Cloutier
By McMaster Children and Youth University (MCYU)
Date and time
Sat, Apr 29, 2023 11:00 AM - 12:00 PM EDT
Location
McMaster University - Hamilton Health Sciences HSC 1A1 Hamilton, ON L8S 4L8 Canada
About this event
Guest Lecturers: Dr. Ryan Cloutier
This Month's Topic: Before your parents were even born, astronomers only knew of nine planets within our solar system, but now we know of thousands! Some are so hot that they rain iron and others orbit cold stars so we think that trees on those planets would have red leaves instead of green. Together we will explore how astronomers discover new planets and dive into some of these strange worlds that fill our galaxy!
* Please note, we will no longer be offering the lectures over zoom. We will be filming the lectures and posting them on our website for those who are not able to make it to the event.
(w)https://mcyu.mcmaster.ca
(e) mcyu@mcmaster.ca
(Instagram, Twitter, Facebook) @McMasterCYU