The inaugural graduation ceremony of The Church of God of Prophecy's Ministry Development Training (MDT) program!
About this event
The Church of God of Prophecy invites you to join us on this special day as we celebrate the first group of successful students graduating with their Diploma or Certificate through ORU/MDT.
Our MDT program is open to anyone, especially those who feel a call on their lives for leadership/ministry. The purpose of MDT is to provide learning opportunity to emerging and established servant leaders where they can learn theological and practical skills as they develop fully in ministry.
We hope you can join us on this special day to celebrate our successful graduates, and hear a bit more about what's in store for the 2021-2022 MDT year! If you have any questions, you can contact us at mdt@cogop.ca. As we are still social distancing, SEATING IS LIMITED, and we will proceed on a first come, first served basis…so register EARLY!!! NOTE: Priority registration for In-Person attendance will be given to our pre-identified Graduates Family members, and Current & Former MDT students.
The MDT program is accredited by Oral Roberts University in collaboration with The Church of God of Prophecy (COGOP), Eastern Canada.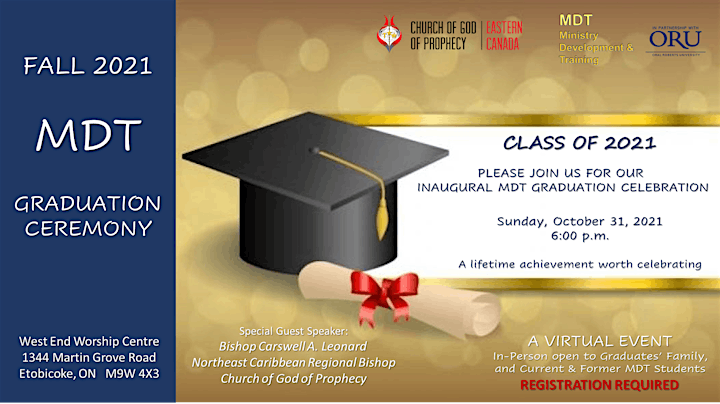 Organizer of MDT Inaugural Graduation Ceremony