MeadowMakers 2023 - March 5th to June 25th
Join this unique program to be part of like-minded people who appreciate our local ecosystems and want to support local plants and wildlife.
Refund Policy
Contact the organizer to request a refund.
Eventbrite's fee is nonrefundable.
About this event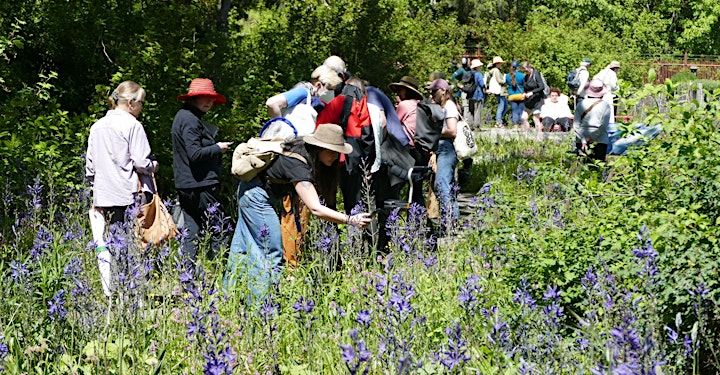 Program Dates: March 5th to June 25th, 2023
Hours of Instruction: 15 hours + 3 Field Trips
Venue: Virtual and Fieldtrips (local)
Cost: $450 + tax for 9 Sessions
Please CLICK HERE for the MeadowMakers 2023 Subsidy Application. Limited subsidies available.
Join Kristen Miskelly of Satinflower Nurseries and Lora Morandin of Pollinator Partnership Canada to become a MeadowMaker!
This is an inspiring four-month program that will guide you through the process of restoring spaces with native plants, such as yards and boulevards. Focal areas include meadow landscapes on Southern Vancouver Island & the Southern Gulf Islands.
All participants will learn bee identification, plant identification, and plant propagation techniques. The MeadowMakers group will receive training from local native plant, ecosystem, and bee experts in a series of workshops, resources, one-on-one guidance, and field trips. The group will troubleshoot problems and support each other in their efforts. Field days will include native plant and bee identification walk and talks, and trips to see local restoration projects.
All in-person (excluding field trips) and virtual sessions will be recorded and made available exclusively to participants for the length of the program.
2023 Program Schedule at a Glance:
Module 1: Welcome, Sunday March 5th (HCP Pavilion, Victoria). Session will also be available virtually.
Module 2: FIELD TRIP, Satinflower Nurseries, Saturday March 11th (In person, Victoria)
Module 3: Supporting Pollinators, Monday April 3rd, (HCP Pavilion, Victoria). Session will also be available virtually.
Module 4: Site preparation, Monday April 10th, (Virtual)
Module 5: Selecting Native Plants, Monday April 24th, (Virtual)
Module 6: FIELD TRIP, Uplands Park, Sunday, May 7th, (In person, Victoria)
Module 7: NEW! Nature's Best Hope with Doug Tallamy (Virtual)
Module 8: Growing Native Plants, Monday May 22nd (Virtual)
Module 9: Monitoring and Maintenance Monday June 5th (Virtual)
Module 10: FIELD TRIP, Sunday, June 25th. Fort Rodd Hill, Garry Oak Learning Meadow. (In person, Victoria)
*All virtual and in-person sessions are recorded and made available throughout the program (excluding fieldtrips)*
Additional MeadowMaker Member Benefits:
MeadowMaker participants receive 10% off plants, seeds, and consulting at Satinflower Nurseries!
10% off seed and plants from Satinflower Nurseries throughout the year (March 1 to December 31, 2023)
10% off in-person meadow consultations to discuss project goals and develop a custom plan including site preparation, planting choices, wildlife enhancements, and maintenance.
10% off Individual virtual consultations to help you progress through the meadow-making process.
MeadowMakers lawn sign included.